The Mirror, Part I of The Miriam Trilogy
For performance-artist/instrumentalist
and computer-controlled piano.
Text and music by William Osborne.
Table of Contents
1. Brief description of the work.
2. The score.
3. Audio files for the accompaniment.
4. The video.
5. Slide Show.
6. Roberta Militello
7. Lament for Solo Trombone (a video of a performance and a video score.)

1. Brief Description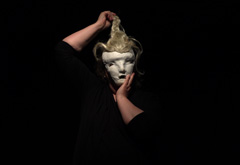 An artist confined to a domestic role searchs for freedom. The Mirror is for pantomime/instrumentalist accompanied by a computer-controlled piano (a MIDI piano or a recording.) The text and music are by William Osborne. It was premiered as part of a trilogy entitled Miriam for the Munich Biennale in May 1990. The three parts of the trilogy are entitled The Mirror, The Chair, and The River.
The work can also be performed by a dancer or pantomime who does not play an instrument.
A video of Part II, The Chair is here. The page also contains detailed program notes and an essay about our theories of music theater.
A trombone solo can be excerpted from the work and and performed as a stand alone piece entitled Lament. See section 6 below.

2. The Score
To download the score click here. (edit. June 7, 2021) The score is 12x9 inches. Print on Tabloid or A3 paper and trim down to size.

3. Audio Files For Performance
Here are two versions the audio file used for performance:
A. Without the trombone part. This can be used by instrumentalists who play the instrument during performance. Or by dancers accompanied by an instrumentalist.
B. With the trombone part pre-recorded. This can be used by dancers and pantomimes who can do other things during the instrumental sections instead of playing an instrument, such as dance, pantomime, or abstractly pantomiming playing an instrument.
The score and audio are free of charge. For more information about the work, and to let us know you are performing it, contact William at
wasteland [at] osborne-connat.org

4. The Video
Abbie Conant, pantomime and trombone
Roberta Militello, masks
William Osborne, music, text, direction, and video
Filmed in August and September 2020 in Taos, NM

5. Slide Show
Click on the thumbnails below to see and save high rez photos. You might need to resize your screen to fit the photo to it. (Cntrl + wheel on a PC.) Use the browser back arrow to return to this page. The performer is Abbie Conant. The masks were made by Roberta Militello.

6. Roberta Militello
Artist Roberta Militello created the masks for the Miriam trilogy. Roberta is an artist, designer, and educator whose work explores the synthesis of digital and physical information through unexpected translations of form, space, and light. Her cross-disciplinary practice has led to collaborations on diverse projects at multiple scales ranging from medical devices, furniture, and building components, to opera sets, installations, and housing.

After receiving a Bachelor of Fine Art, she studied Glass and Light at the Akademie der Bildenden Künste (Academy of Fine Art) in Munich, Germany. Roberta holds a Master of Architecture degree from Cornell University and currently works in Cornell's Center for Teaching Innovation.

7. Lament for Solo Trombone
A trombone solo can be excerpted from The Mirror and and performed as a stand alone piece entitled Lament. Here is a video of Abbie Conant performing it. If you'd like a copy of the score, contact William Osborne. william@osborne-conant.org
And here is a video score.