We would like to invite you to a house concert which we will be presenting as a benefit for the Taos Opera Institute. TOI is a highly intensive program for opera singers, held each June in the beautiful Taos Ski Valley. Singers are coached by distinguished artists to enter professional careers. This will be a wonderful event with great music, wine and cheese, and a collection of interesting people at the residence of Vicki Ford on:

Sunday, August 11th at 7:00 PM

The suggested donation is $10, but all are welcome.

Due to limited seating this will be a RSVP event. To let us know you are coming and to obtain directions to Vicki's house, please email us or telephone us at one of the following numbers:

William Osborne – (575) 613 5623
or
Vicki Ford -- (575) 758-2841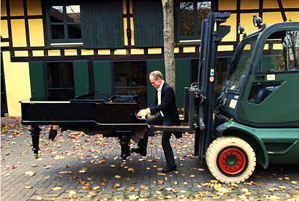 Singer-Songwriter, TED GANGER, will be performing. Ted was born in Cleveland, Ohio, and studied piano and conducting at the Juilliard School in New York, before going to Germany on a Fulbright Grant. He remained in Germany, where he has worked as a conductor and coach in the opera houses of Frankfurt, Mannheim, and Darmstadt, among others, conducting over 40 operas, operettas, and musicals. As a piano soloist, chamber musician and Lied partner, he has performed in the United States, Europe, South America, Australia, Southeast Asia and East Africa.

Since 1998, Ted Ganger has been a voice coach on the faculty of the famous Hochschule für Musik und Theater in Munich; he also plays keyboard instruments with the Munich Philharmonic Orchestra.

In January, 2011, he recorded his first twelve songs, which can be heard on the CD, Late Early Songs. His second CD, Feeling My Way, was released in June, 2012 and features the second dozen songs, and a third CD, Notes From My Underground, has just been released. He is currently working on his 42nd song.

Ted Ganger's songs are – different. A unique mix of pop, musical and classical, they defy comparison to any other songs you may have heard. The texts are about very personal experiences and feelings that are at the same time familiar to all of us. Every song has its own musical personality, but they all bear the same unmistakable signature. Alternately witty or melancholy, malicious or tender, cheerful, provocative or conciliatory, they entertain, give pause - and touch the listener directly. Listen to one of his songs here.
Please join us to support the Taos Opera Institute with what will be a very memorable evening, and also just plain fun! RSVP with email or at one of these numbers as soon as possible to reserve your spot:

William Osborne – (575) 613 5623
or
Vicki Ford -- (575) 758-2841