Apocalyptic Visions and New Worlds
Join the renowned musicians, Abbie Conant and William Osborne, for an
evening of their internationally acclaimed music theater and multimedia works.
7:00 PM, Sunday, March 13, 2011
Enchanted Mountain Studios, 114 Los Pandos
(about three blocks from the Plaza - Parking at Smith's or in Scheid Motors old lot)
Tel. 575 621 5928
Admission is free.
Refreshments will be served. Stay around and chat with the artists
and your friends about Taos culture, poetry, music, philosophy, or
anything else that strikes you, profound or trivial.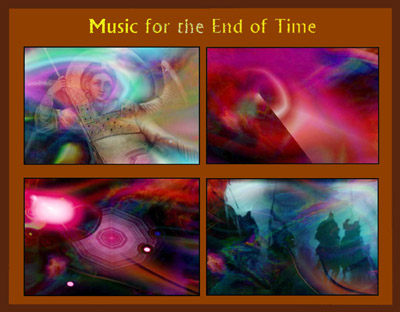 Program:

Miriam

(Part II: "The Chair")

A music theater work

Performance, Abbie Conant

Music, Text, Direction: William Osborne

Intermission

Music for the End of Time

For trombone, video, and quadraphonic surround-sound in six continuous movements)

Abbie Conant, trombone; Norbert Bach, digital stills;

William Osborne, music and video

I. A Door Was Opened In Heaven

II. The Sea of Glass

III. The Four Horsemen

IV. As It Were of A Trumpet Talking

V. The White Beast

VI. A Woman Clothed With the Sun
"Miriam" is about a woman in an asylum attempting to create a text she hopes to perform for a shortly expected visit from her children. She cannot find words that express her feelings and discovers she has no language of her own. She recedes more and more into silence and finally implodes into soundless screaming. Only her instrument can serve as an expression of her deepest emotions.

"Miriam" was premiered for the 1990 Munich Biennale, the world's most elite and prestigious festival for new music theater. We explore the premise that the pursuit of creative identity is fundamental to human dignity, and that people denied that freedom develop existential, spiritual,

and psychological problems.

"Miriam" was inspired by Abbie's experiences with egregious gender discrimination as first trombonist of the Munich Philharmonic. Her ordeals were the subject of a 90 minute documentary broadcast by German National Television, and comprise the concluding chapter of Malcolm Gladwell's book Blink which was on the New York Times Bestseller List for 18 weeks.

Some of the world's most prestigious newspapers attest to what you will see:

"This fabulous Abbie Conant … After seeing and hearing the musician Abbie Conant , one gets an idea of what many actresses are painfully lacking: namely, a musically schooled sensitivity to the pitch inflections and flexibility of the voice, that allows her to present an astoundingly varied rhythmic and expressive performance, and all with a natural ease one seldom finds. An excellent, versatile, talented performance artist, and an outstanding trombonist as well."

--Süddeutsche Zeitung
"On the program were two deep psychological women's portraits by William Osborne… The outstanding protagonists are Leonore Hall, a sensitive pianist with highly refined touch, and Abbie Conant , a multi-talent for large solo scenes, in which she must speak, sing, mime, and play the trombone. With the uncommonly moving scene Osborne has given back to music something it has long avoided: spirituality. Will the music theater of tomorrow follow Osborne's lead?"
--Stuttgarter Zeitung
"This production of the 'Wasteland Company' was from one soul, the music was an ideal marriage with the scenic inventions and the performance of Miriam. The performance of Abbie Conant was absolutely striking, an all-round genius." --Applaus Magazine
"The content of the 40 minute theatrical scene was gruesome; the audience's reaction was ecstatic. Conant is in equal measures a virtuoso trombonist, a compelling actress and a competent opera singer. Miriam paints a haunting portrait of a woman made invalid against her will. The performer gets a break only when the tempo slows, but even then there is no letting up in terms of intensity." -- St. Louis Post-Dispatch
"…a harrowing music theater piece…"
--The Wall Street Journal
For more info about Miriam click here.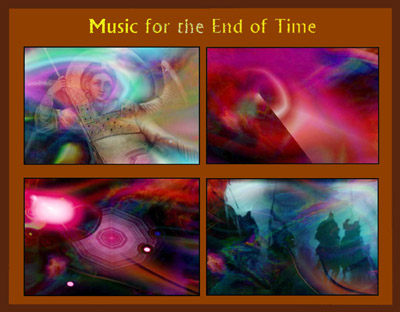 For the second half of the program, we will perform "Music for the End of Time." Intensely dramatic video and overwhelmingly sensuous surround sound create a cataclysmic and transcendent world in which Abbie Conant 's world class trombone performance is the central, prophetic figure. The work is in six continuous movements based on the Book of Revelation.

We were drawn to the Book of Revelation more by its rich imagery and symbolism than doctrinaire religious belief. "Music for the End of Time" follows in the traditions of composers exemplified by Mussorgsky's "Night On Bald Mountain," Berlioz's "Symphony Fantastique," and the deeply bi-polar melancholy/exuberance of Schumann and Mahler.

We explore apocalyptic visions and how they help humans appreciate the extreme limitation of our existential condition in relation to the boundless majesty of the universe. (Images from the video above.)

For more info about Music for the End of Time click here.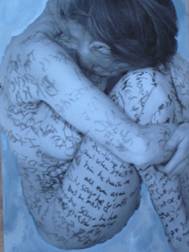 We will also be displaying the intensely dramatic photography of Debra Diamond. The strong and direct images are part of a series of 2500 photographs taken with a 35-millimeter camera that are enlarged on prints averaging 2x3 feet. Her work is the unfolding of a personal journal, literally written and recorded on the artist's body.
Just as in our theater work "Miriam," Diamond explores the deepest psychological responses of women struggling to formulate their identity in the modern world. In the most extreme cases, this can be a terrifying process of repeated alteration, self-erasure, and self-creation. Debra Diamond's photography becomes a form of theatrical gesture in the process of moving toward self-discovery and autonomy.

Debra is a Graduate of Christie's Education, has had numerous artist residencies including the Women's Studio Workshop, the David and Julia White Art Program and the Montorno Studio Workshop. She has trained at The Corocoran School of Art, Cooper Union and The Maryland Institute College of Art. She has exhibited widely in the US and Europe .
We think our latest salon will be an experience you will not forget.
Abbie Conant
is a legend in the brass world. She was principal trombone of the Munich Philharmonic for 13 years and has recorded a critically acclaimed CD of trombone and organ music. The story of her struggle for equal treatment and pay as her male colleagues in the Munich Philharmonic appeared in the Wall Street Journal, The Washington Post, and many other newspapers. It also comprises the last chapter of Malcolm Gladwell's book Blink which was on the New York Times Bestseller List for 18 weeks. A full length documentary titled,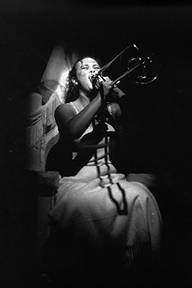 " Abbie Conant , Alone Among Men," was aired several times on German national television. With her husband, composer William Osborne, she has created a repertoire of music theatre works for acting/singing trombonist. The artist couple has toured to over 155 cities in Europe and the USA with their own multimedia productions. Abbie has given masterclasses at the Juilliard School, Indiana University, Yale School of Music, New England Conservatory, Eastman School of Music, Manchester School of Music among many others. She has been a juror on several international trombone competitions including Porcia, Geneva , Lieksa and the N.A. Rimksy Korsakov. The International Trombone Association Journal has featured Abbie Conant in a cover article and described her as "in the first rank of world class trombonists". She performs internationally as a concerto soloist, recitalist, improviser and performance artist. In 1992 the Baden-Württenberg State Ministry for Education, in recognition of her international reputation as a trombonist, named her full tenured Professor of Trombone at the esteemed Staatliche Hochschule für Musik in Trossingen , Germany . In 1996 the 4200 members of the International Trombone Association elected her as their President-Elect. Her International Trombone Camp, which was founded in 1987 in Germany and Italy , has featured guest artists such as Joe Alessi, Charles Vernon, Michael Mulcahy, Jiggs Whigham, Carsten Svanberg, Heinz Fadle, Stuart Dempster, Ingemar Roos, Jay Friedman and others. She has recently founded the world's first Trombone Chamber Music Institute.
Norbert Bach
possesses extensive schooling and experience in the visual arts. He has created a body of over 3000 digital arts works which have been acclaimed in both the United States and Europe . His works subtly probe psychological depths which move digital imagery toward new forms of phenomenological experience.
William Osborne
studied with George Crumb in Philadelphia and with Franco Donatoni at the National Academy of Italy. Among his awards are two from the American Society of Authors, Composers, and Publishers, a Doctoral Fellowship to Columbia University , and a prize from the Munich Theater Commission. His works have been performed in over 155 cities in North America and Europe . Mr. Osborne has written numerous articles about the social and political influences of music including "Symphony Orchestras and Artist-Prophets" published by the M.I.T. Press. He has appeared on "Good Morning America" and NPR as well as having been the subject of a feature article by MSNBC.