Press from the media in
the USA and Europe
-
"An utterly entertaining evening…  This fabulous Abbie Conant…  After seeing and hearing the musician Abbie Conant, one gets an idea of what many actresses are painfully lacking: namely, a musically schooled sensitivity to the pitch inflections and flexibility of the voice, that allows her to present an astoundingly varied rhythmic and expressive performance, and all with a natural ease one seldom finds. […] An excellent, versatile, talented performance artist, and an outstanding trombonist as well."
                        --Süddeutsche Zeitung, May 5, 1987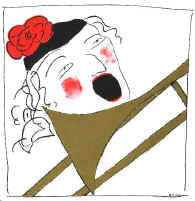 "...for the doubting monolog of the blind cripple Hamm and the naive calmness of Winnie, William Osborne has written a consistently appropriate music.  It is never forced, but sensitively supports the text with attention to emotion and atmosphere…  In the end, thanks also to the impressive performances, one was impressed and never bored for a minute."
                        --Münchner Abendzeitung, September 29, 1987
<![if !supportEmptyParas]> <![endif]>
"Abbie Conant, otherwise solo trombonist of the Munich Philharmonic, embodies a wrecklessly funny Winnie (from "'Happy Days'.)  The way she rummages in her shopping bag, deciphers the print on her tooth brush, continually quotes the 'wonderful' and 'immortal' classics, and always two centimeters this side of hysteria—this one should really see and hear, and in English, one discovers the clown in Samuel Beckett."
                        --Süddeutsche Zeitung
<![if !supportEmptyParas]> <![endif]>
ng, February 28, 1986
<![if !supportEmptyParas]> <![endif]>
"…the Wasteland Company's unique work in a mixed form of acting and music, song and instrumental performance has something of excitement to it.  In this manner the trombonist Abbie Conant contrasted her high musical professionalism with natural acting talent to present a refreshingly spontaneous Winnie."
                        --Münchner Abend Zeitung, Freburay 28, 1986
<![if !supportEmptyParas]> <![endif]>
"Osborne's transcription of 'Happy Days' is an impressive 45 minute mini-opera for an 'acting trombonist and piano-player.'  […]  Through the musical transcription and accompaniment, through the change between sung and spoken passages, the musicality of the text is shown, and the structure of the theme and variations underlined.  The fascinating text, brilliantly performed by Abbie Conant, is given a completely new dimension in its content and the quality of its language."
                        --Götttinger Tageblatt, April 29, 1986
<![if !supportEmptyParas]> <![endif]>
"The few words that are spoken in the scene (Rockaby) are memories of an old woman played from a tape, which William Osborne has accompanied with tender discretion and melancholic sympathy.  […]  It is a breathtaking work in a continuous piano and awakens the wish to hear more of his works such as 'Hamm' for an acting violinist from 'End Game' or 'Vladimir' for acting bass clarinetist from 'Waiting for Godot.'  […]  She [Abbie Conant] is a multi-talent, she is a capable soprano, cackles and chatters the text in theatrical escapades – plays short passages virtuosically on the trombone.  […]  First on the program was 'Winnie', a no less impressive work."
                        --Hessische Allgemeine Zeitung, Kassel April 28, 1986
<![if !supportEmptyParas]>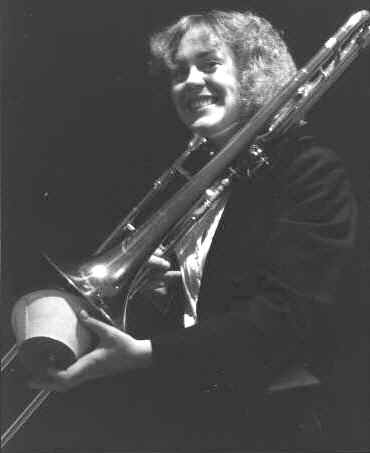 <![endif]>
"The Opera Stabile [an opera studio theater] remembers much too rarely the purpose for which it was originally built: the presentation of chamber music theater.  In this sense the guest performance of the Munich based Wasteland Company was exactly appropriate.  […]  Abbie Conant is a genius for character roll changes.  In one evening she plays the characters in Act Without Words, Winnie in Happy Days, and the woman in the rocking chair in Beckett's new work based on the variation, Rockaby: three scenes of futility, self-betrayal, and disintegration, bedded on a discrete piano accompaniment, that Osborne, with the diction, structure, and stage directions of Beckett, uses to legitimize his purpose.  […]  Abbie Conant portrays a 'woman in her fifties' with bull's eye accuracy, buried to the neck in the rubble of her married years: a bulls eye.  She brings the social and personal situation of some fifty year olds directly to the point: 'Please love me.'"
                        --Die Welt, October 26, 1987
<![if !supportEmptyParas]> <![endif]>
"Act Without Words.  A touching seventeen minute long clown-like number of the acting trombonist Abbie Conant…  Suzanne Bradbury, the excellent pianist, performed like a silent film of the old days.  A Chaplinesque reminiscence, an amusement.  The second and central part of the program was something different, a mini-opera after Becket's Happy Days.  Once again Abbie Conant captured the tone of this prattling (performed in the English original) woman with maddening accuracy, some passages modulating from Sprechgesang to a high shrill drive.  The beginning appeared as a music revue comedy but then one is captured by this performer, who also can take up her instrument and with seeming effortlessness change back to the use of her voice, the perfect completion to the sometimes forceful, sometimes restrained piano music of William Osborne.  […]  The brilliance of the evening: Abbie Conant's strong presence, her impressive performance, congenial presentation and recreation of the sensitively accompanied words of Beckett by the music of William Osborne."
                        --Hamburger Rundschau, October 10, 1987
<![if !supportEmptyParas]> <![endif]>
"All together 15 works of composers were performed, [Stuttgart New Music Festival) that put the old music theater forms in question.  Strictly speaking, however, only two works were impressive: the dadaistic Adventures & Nouvelles Avetures from the year 1962, in which György Ligeti makes fun of conventional opera and cultural institutions, and the music theater work Miriam for trombonist/soprano and piano by the American composer William Osborne, that was premiered by the "Wasteland Company."  […]  The work requires an actress that can speak, sing, and play the tromnbone.  Abbie Conant fulfilled these requirements.  Together with Leonore Hall she gave an impressive performance that really gets under the skin."
--Mannheimer Morgan, late November/early December, 1988 (date unknown)
<![if !supportEmptyParas]> <![endif]>
"On the program were two deep psychological women's portraits by William Osborne…  His ensemble, 'The Wasteland Company' has an above average niveau.  The outstanding protagonists are Leonore Hall, a sensitive pianist with highly refined touch, and Abbie Conant, a multi-talent for large solo scenes, in which she must speak, sing, mime, and play the trombone.  […]  Abbie Conant's facial expressions were as gripping as the engaging music, whose trombone tones warned of burial celebrations.  With the uncommonly moving scene Osborne has given back to music something it has long avoided: spirituality.  Will the music theater of tomorrow follow Osborne's lead?"
                        --Stuttgarter Zeitung, November 30, 1988
<![if !supportEmptyParas]> <![endif]>
"This production of the 'Wasteland Company' was from one soul, the music was an ideal marriage with the senic inventions and the performance of Miriam.  The expressive music reminded one of the early John Cage; the setting: computer controlled piano, piano and trombone, voice.  The performance of Abbie Conant was absolutely striking, an all-round genius.
                        --Applaus, June 1990
<![if !supportEmptyParas]> <![endif]>
"Miriam was played by Abbie Conant, solo-trombonist of the Munich Philharmonic (which one noted from her excellent trombone playing), who is at the same time a performer of utter intensity.  As a singing actress, or as an acting instrumentalist she practices an all encompassing sort of performance art.  […]  Concentrated on psychological proceedings, without clichés, but with moving visual imagery and professional master, Miriam can still be seen today and tomorrow in the Opera stabile."
                        --Hamburger Abendblatt, November 15, 1990.
<![if !supportEmptyParas]> <![endif]>
"With the premiered three act play William Osborne (music, book, direction) and Abbie Conant (trombonist, actress, singer) have succeeded in creating a forceful theatrical experience."
                        --Münchner Merkur, May, 1990
<![if !supportEmptyParas]> <![endif]>
"Abbie Conant is a young woman who must be labeled as a multi-talent.  She masters pantomime, voice, Sprechgesang and trombone.  In the woman's portrait Miriam she unifies her abilities to an anguishing study of a woman seeking her identity.  The staging of the 'Wasteland Company' is notable experimental theater.  Abbie Conant has the courage to go into detail."
                        --Storniarner Tageblatt, November 24/25, 1990
<![if !supportEmptyParas]> <![endif]>
"The performance artist Abbie Conant, accompanied on the piano by Leonore Hall, presents expressive spiritual theater.  The public, through the outstanding acting and vocal abilities of Abbie Conant, was drawn into a spell, expressively supported with the trombone."
                        --Lübecker Nachrichten, November 23, 1990
<![if !supportEmptyParas]> <![endif]>
"The content of the 40 minute theatrical scene was gruesome; the audience's reaction was ecstatic.  […] Conant is in equal measures a virtuoso trombonist, a compelling actress and a competent opera singer…  Miriam paints a haunting portrait of a woman made invalid against her will.  […]  The performer gets a break only when the tempo slows, but even then there is no letting up in terms of intensity."
                        --St. Louis Post-Dispatch, May 31, 1993
<![if !supportEmptyParas]> <![endif]>
"…a harrowing music theater piece…"
                        --The Wall Street Journal, July 7, 1993