Living In Two Worlds
Join Taos Pueblo traditionalist Patrick J. Romero for an evening about the culture, history, and current status of the Taos Pueblo.
7:00 PM, Sunday, January 9, 2011
Enchanted Mountain Studios, 114 Los Pandos
(about three blocks from the Plaza - Parking at Smith's)
Tel. 575 621 5928
Admission is free.
Refreshments will be served. Stay around and chat with Patrick and your friends about Taos culture, poetry, music, philosophy, or anything else that strikes you, profound or trivial.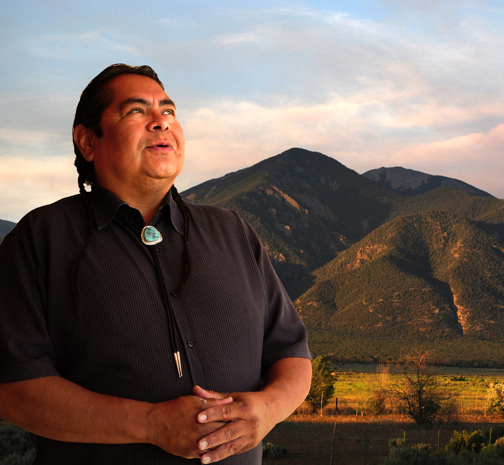 For many, the Taos Pueblo remains a mystery even though they have lived in close proximity to the surrounding cultures for hundreds of years. Outsiders sense the wisdom in the Puebloan way of living, but it remains indecipherable and almost Delphic, something enigmatic and fathomless, something shrouded in the beauty and gentleness of their natures. And yet the Puebloans are obligated to live completely in the modern world, not only sharing the same joys and frustrations of modern life as all of us, but even serving as political, cultural, and educational leaders in our Eurocentric community. How do they manage to bridge these two worlds? How do they maintain their notable gentleness and often peaceful natures in the harshness of the modern world? How and why do they maintain their traditional way of life in the face of a surrounding, hegemonistic, and overpowering Eurocentric society?
Taos Pueblo traditionalist Patrick J. Romero will address these questions and many more in a multi-media evening that will include historical and modern slides of the Taos Pueblo and numerous recordings of Native American music reflecting his traditionalist aesthetics. To illustrate the dual worlds in which many members of the Pueblo reside, Mr. Romero will begin the evening in his traditional native attire and end in modern Puebloan clothing. The evening will be especially entertaining because he speaks with a refined, subtle, and acute sense of humor for which many Puebloans are known -- perhaps a result of the countless ironies that evolve when people live in two distinct worlds with contradictory perspectives. He teaches through laughter.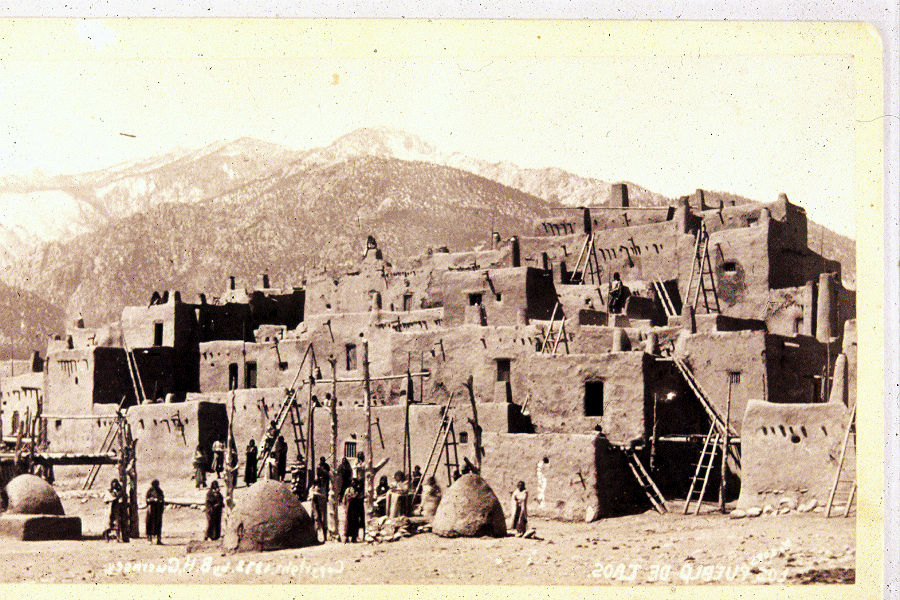 Mr. Romero's presentations also take us well beyond the usual touristic impressions of the Taos Pueblo, and offer important insights. Few people have faced more rigorous or violent forms of forced assimilation than the Puebloans, and yet the wisdom and existential depth of their pre-Columbian cultures remain a living reality. Many people, Puebloan or not, wonder how we might maintain our identities and cultural integrity in an ever more crowded global village -- something the Puebloans have been doing for hundreds of years.
Mr. Romero also illustrates how Native Americans maintain a living culture that continues to evolve and grow, and that might even be moving toward a renaissance -- something long prophecied in their religion. And with no small amount of humor, he addresses what he calls the "John Wayne Syndrome" which expects Native Americans to hold only to stereo-typical clichés in their culture and life styles.
And on a more practical level, Mr. Romero speaks as an ambassador for the Taos Nation. He explains the importance of building strong bridges between the two worlds in which his people must live. It is only through better understanding and communication that the Puebloans can obtain the social services and funding that other Americans take for granted in education, health care, physical infrastructure, and family protections. As a former Taos school board member, current board member of Community Against Violence, and as host of the weekly radio show "Moccasin Wire," Mr. Romero has become one of the Taos Pueblo's leading spokespersons and elders while maintaining a traditionalist life style.
The evening will close with a question and answer period during which Mr. Romero will discuss all aspects of Puebloan society. The only area excluded will be their religious beliefs, which according to tradition must remain known only to members of the Taos Pueblo. And even here, this is not aloofness or a meaningless desire to be separate since religious privacy maintains the vitality, power, and sanctity of their rituals which they use for the benefit of nature and all humans.
This is a chance to learn much more about our Taos community and gain new insights and understandings. Please join us for an evening that will be entirely unique and unforgettable.
You can watch a video of Mr. Romero's spontaneous and informal presentation here.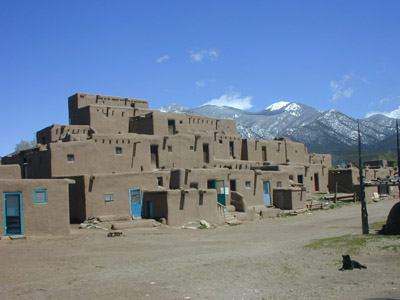 <![if !supportEmptyParas]><![endif]>