Winnie
(For performance-artist-soprano, with optional instrumental part, and piano)
Performance artist: Abbie Conant
Suzanne Bradbury: Piano
Composer: William Osborne
Table of Contents
4. Photo Gallery of our production of Winnie

1. Program Notes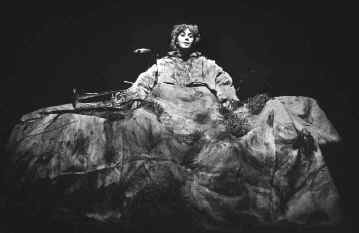 For soprano (with optional instrument) and piano with text from Samuel Beckett's Happy Days. (45 minutes) Premiere: Rome – Nuovo Forme Sonare, December 1984.
Dante is a key to Beckett. Winnie (with the text taken from Samuel Beckett's Happy Days) embodies the forceful image of Canto X in which those who rebel against God are punished. Here are two Epicurians, Farinata and Calvacante, who believe that the highest good is temporal happiness achieved through a virtuous life. They both stand in their graves, Farinata buried to the waist, merrily ignoring the desperate condition of Calvacante, who has only his head remaining above the surface. Winnie's dilemma is similar and we admire her, just as Dante admired the self-sufficiency of Farinata, who maintains his dignity and expresses contempt for all this hell.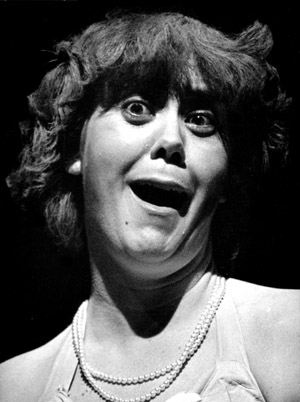 We also explore the deeply ironic humor of Beckett's text. As the Süddeutsche Zeitung observed, "Abbie Conant, otherwise solo trombonist of the Munich Philharmonic, embodies a wrecklessly funny Winnie. The way she rummages in her shopping bag, deciphers the print on her tooth brush, continually quotes the 'wonderful' and 'immortal' classics, and always two centimeters this side of hysteria—this one should really see and hear, and in English, one discovers the clown in Samuel Beckett."
"Reason says put it down, Winnie, it is not helping you, put the thing down and get on with something else. I cannot. I cannot move. No, something must happen, in the world, take place, something change, I cannot, if I am to move again. Willie. Help. For pity's sake. No? You can't?"
Beckett has said that silence flows between the words of his works like water into a sinking ship. In this silence one hears the music of a will to life. This will enables the residents of Dante's Inferno and the characters of Beckett to portray a stark contrast between the indignity of hell and dignity of humans under torture—even if ironically.

2. Score
The score of Winnie is downloadable in two sizes. We recommend the larger tabloid size for learning the work, or for reading it online. The legal score can be used later for simpler handling.
The score can also be reduced to letter or A4 sizes, but the print is rather small.
The pianist should not use a bound score. To avoid page turn problems, leave the pages loose leaf and slide them to the left at the arrow symbols on each page.
Winnie, tabloid size paper (11X17 inches)
In EU print on A3 paper.
Winnie, legal size paper (8.5X14 inches)
In EU print on A3 paper and trim to 21.59 X 35.56 cm)

3. YouTube Video
Abbie Conant, performance artist
Suzanne Bradbury, piano
William Osborne, director
Theater am Sozialamt Munich, Germany in May 1987.
To download the video of Winnie to disk click here. (Flash, 572 megs.)

4. Slide Show