Recent News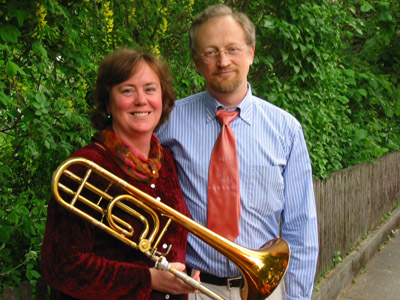 June 22, 2013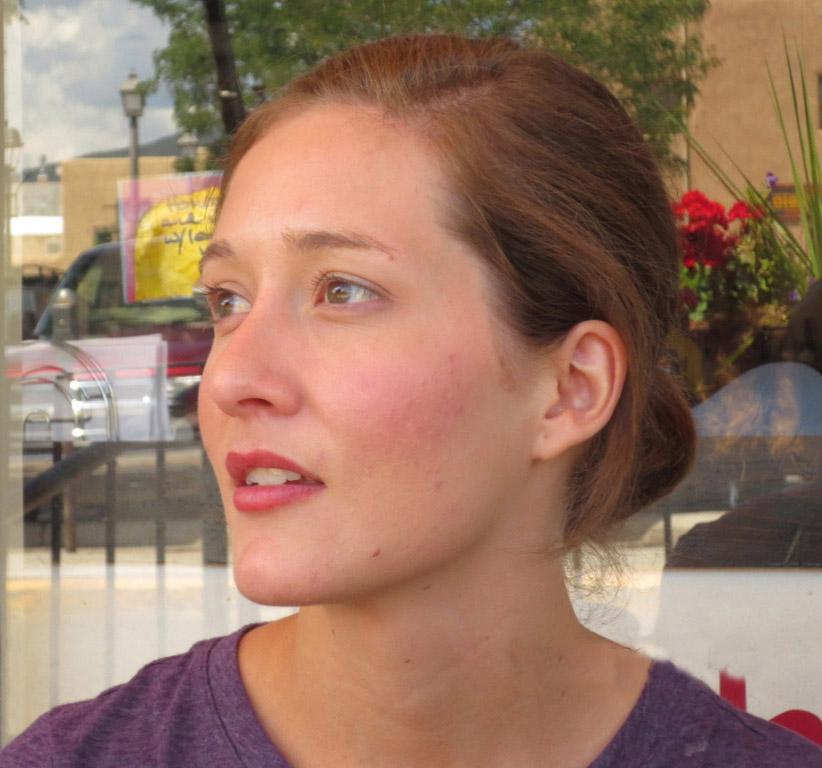 Dr. Jessica D. Butler has completed her dissertation about our music theater work and has been awarded a Doctorate of Musical Arts degree by the University of Iowa. Her dissertation is entitled "The Creative Identity of Women: An Analysis of Feminist Themes in Select Chamber Music Theater Works by Composer William Osborne for Trombonist Abbie Conant."
Jessica had already written an 18 page paper about our music theater work "Street Scene for the Last Mad Soprano." You can find a link to it here.
This is the second dissertation written about our work. Jesús Fernando Lloret González, a professor at the Conservatorio Superior de Música de Málaga, also wrote his dissertation our our music theater. See our news update below for March 21, 2012 for details.
Prof. John Manning was on the committee at the University of Iowa where Dr. Butler defended her dissertation. He has published his thoughts about the experience on his blog.
In early June we made a nice three day trip to Switzerland. We drove through high mountain passes and saw the premiere of Lucerne's production of Rossini's La Cenerentola.
In March and April we were in residence at 9 universities in Oklahoma, Texas, and Mississippi.
October 28, 2012
Abbie is now offering a Masters Degree in Performance Art at the Musikhochschule Trossingen. This is an interdisciplinary program in all aspects of performance art that is specifically designed around the interests of each individual student. If you would like more information or are interested in applying, send Abbie an email.
March 21, 2012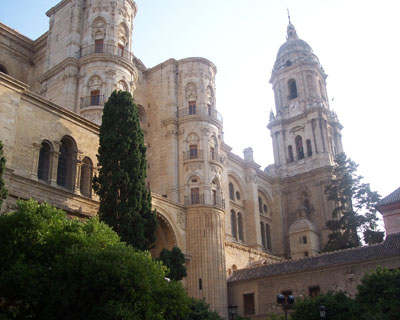 Jesús Fernando Lloret González, a professor at the Conservatorio Superior de Música de Málaga, has completed his dissertation about our music theater and multimedia work and has been awarded a Ph.D. His dissertation is entitled, "Fusión del Teatro Y La Ópera a Través de Los Medios Audiovisuales: La Trombonista Abbie Conant Y El Compositor William Osborne." ("The Fusion of Theater and Opera Through Audiovisual Media In the Work of William Osborne and Abbie Conant.") He was given the highest distinction, cum laudem, for his work. The degree was awarded by the Faculty of Cinema and Communications at the University of Málaga. Congratulations to Prof. Dr.Gonazález.

In April, Prof. Gonazález will present a lecture about our work in Vila Nova de Foz-Côa, Portugal, as part of Simpósio Internacional Educaçăo Música Artes Interculturais to be held from April 10-14, 2012. Here is an English translation of the abstract for his talk:

"Cybeline": The Reincarnation of Contemporary Women.

"Cybeline," by American composer, William Osborne, and trombonist, Abbie Conant, was written in response to the gender discrimination Conant experienced during her thirteen year tenure in the Munich Philharmonic. After winning the audition, she was rejected as first trombonist because she is a woman. "Cybeline" uses artistic hybridization to blend electro-acoustic music, music theater, and opera, all joined through new audiovisual technologies. The work tells the story of a woman who has been dismembered by a psychopath, and who is reassembled as a cyborg by medical scientists who erase all of her memories and feelings. "Cybeline," however, tries to show she is human, and presents a feminine vision of the present world ruled by new technologies.


January 2012
After a pause of over two years, I'm finally updating our news. Abbie's sabbatical (July 2010 to April 2011) was very productive. We completed a video of the second part of our Miriam trilogy, The Chair. We also wrote essays about our music theater work. The essays, and a link to the video can be found here. (I plan to further improve the video with color correction and matting techniques when I have time.) We also presented performances and lectures at Northern Arizona University, the University of Missouri, Kansas City, and one in a salon in our Taos studio. On November 28th, 2011 we also presented a concert at the Musikhochschule Trossingen.
Our performances (Miriam and Music for the End of Time) were very successful. Due to our extensive and highly evolved use of theater and multimedia, our works are far removed from any other type of brass performance. Here is a comment we received from Alexander Lapins, Professor of Tuba and Euphonium at NAU:
The performance you gave was absolutely profound. Your exquisite musicianship, dramatic commitment and your simultaneously elegant and powerful trombone playing illuminated the works performed to perfection. The works themselves were sublime; frightening, funny, terrifyingly beautiful, powerful and brimming over with humanity. This was a stunning, engaging and enlightening experience. Thank you!
We also performed for the International Women's Brass Conference in Toronto in June 2011.
During her sabbatical, Abbie did a good deal of reading about Leonardo da Vinci. She is using the information as the basis for a class she is teaching at the Musikhochschule Trossingen about how da Vinci's principles of creativity can be applied to musical performance.
During Abbie's sabbatical, and the summer months that followed, we also presented seven salons in our studio. (This makes of total of 11 salons we have presented there.) You can read about them in detail by following the links on our studio website. They were very well attended, very well received, and added new dimensions to the cultural life of Taos.
On September 5, 2011, Cracked.com published an article by Lillian Marx entitled "5 Bizarre Dark Sides to Modern Orchestras." One of the sections was about Abbie's experiences in the Munich Philharmonic, and was based on my article "You Sound Like A Ladies Orchestra." In just a few days their article was read by over 780,000 people. In the first five days after it appeared, over 26,000 visited our website to read "Ladies Orchestra" for further details. Over 14,000 people "liked" the Cracked.com article on Facebook.
We didn't know about the Cracked.com article until it appeared, so you can imagine my surprise when I checked our web stats on the morning of September 6th, and saw that we had over 14,000 visitors the previous day. It quickly rose to over 26,000. "Ladies Orchestra" has been successful in raising consciousness about the status of women in orchestras. It was also used as the basis for the concluding chapter of Malcolm Gladwell's book Blink which was on the New York Times Bestseller List for 18 weeks -- and number one for three weeks.
Our work to help bring women into the Vienna Philharmonic has also continued. In Feburary 20, 2011 the San Francisco Chronicle published a large article entitled "Vienna Philharmonic must answer for exclusion" that was highly critical of its gender and racial employment practices. And on March 4, 2010 the Independent in London published a large article about the Philharmonic entitled "All white on the night: Why does the world-famous Vienna Philharmonic feature so few women and ethnic minorities?" Interestingly, both articles mentioned William and his work by name. On December 31, 2011 William also posted a new updateon our website about the status of women in the orchestra entitled, "Genteel Discretion and Easy Complacency." From January 1 to 3, 2012 it had over 5500 unique visitors. The article was also Tweeted about by Alex Ross of the New Yorker, and by the music critic of the London Times.
Some of you might remember that the Supreme Court recently ruled against women in a class-action suit against Wal-Mart for gender discrimination. In her dissenting opinion, Justice Ruth Bader Ginsberg referred to the discrimination against women in symphony orchestras, and that when blind auditions were initiated the numbers of women employed rose sharply.
Ginsberg was referring to a study of blind auditions completed Claudia Goldin and Cecelia Rouse -- economists at Harvard and Princeton respectively-- in 2000. (The JSTOR abstract of the Goldin and Rouse study is here.) Goldin and Rouse completed their study after seeing one of my postings about blind auditions sent to several academic discussion lists on the Internet. (My posts about women in orchestras were widely followed in non-musical areas like labor-relations lists.) Prof. Rouse contacted me for further information and they began their study. Even if very indirectly, it was interesting to see how some of our efforts for women in orchestras rippled up to the Supreme Court.
William's principle activity for the last two years has been the completion of a new 80 minute music theater work entitled Aletheia. (That is also why we haven't been performing as much as usual.) It is a one-woman work for Abbie. We hope to premiere it in Santa Fe, NM in September of 2012. In a word, it is about a soprano who is supposed to sing for an opera gala taking place in the courtyard below her dressing room window, but she can't bring herself to go down and sing. Among many other things, we examine the artist's relationship to society.
We also made some wonderful trips. In October of 2011 we visited Zion National Park, Bryce Canyon, and the Capitol Reef in Utah. And in August 2011 we spent time exploring the Gila Wilderness in Southern NM, and the Chiricahua Mountains in Southern Arizona. In December 2011, we traveled in Switzerland, visiting Luzern, the Matterhorn, and Bern. Abbie took hundreds of photos. A small sample are below. More to come. Click to enlarge.
2010
On February 21 and 22 Abbie and William will be in residence at Northern Arizona University in Flagstaff. We will offer various lectures and seminars and perform our music theater work Miriam.
Summer in Spain. Salons.
On January 23, 2010 Abbie and William will perform Music for the End of Time in Keller Hall at the University of New Mexico. Abbie will offer a trombone masterclass on Friday, January 22nd.
Abbie and William will be artists in residence at Southwestern University from January 25th to 28th. They will offer various three lectures, a trombone masterclass and two concerts (Music for the End of Time and Street Scene for the Last Mad Soprano.)
In mid March 2010 we spent 4 days in Rome. We saw the sites, attended a performance of Boito's Mesfistofele at the Rome Opera, and buzzed around the city on a Vespa.
Form April 2-7, 2010 we will be in residence at the University of Málaga, Spain. Abbie will give trombone masterclasses. William will give a 2 hour lecture at Faculty of Education Sciences on Tuesday, April 6 from 3:00 to 5:00 PM about the status of women in music, especially orchestras, and discuss the history of our activism for them.
Abbie and her trombone class will perform in Torre Pelice, Italy on April 10 and in Busa, Italy and April 11.
We will perform Music for the End of Time for the International Womens Brass Conference which will be held from June 16-20, 2010 in Toronto.
We will perform Music for the End of Time for the IX Alzira Brass Festival in Alzira, Spain from July 1-3, 2010.
From July 15, 2010 to April 1, 2011 Abbie will be on sabbatical. We will be living in Taos, NM. A central purpose of the sabbatical is to create video recordings of some of our music theater works. We will also visit several universities for concerts and lectures. (More to be announced.)
2009
On January 13-16 Abbie and William performed and gave masterclasses at the
Conservatory of Music in Málaga, Spain.
Prof. Jesús Fernando Lloret González, who teaches trombone at the Conservatory of Málaga, is writing his Ph.D. dissertation about our multi-media and music theater work.
On March 7 Abbie was a featured soloist for the Internationaler Posaunenverein in Stuttgart, Germany. She performed William's work "Music for the End of Time."
In March and April Abbie and William performed and gave masterclasses at
13 universities in the Western part of the United States.
On Septebmer 25, 2009 we performed Street Scene for the Last Mad Soprano in our studio in Taos, NM.
2007-2008
Last December Abbie was a jury member for the Porcia International Trombone Competition 2007 in Italy. See her video interviews of the other judges.
This summer Abbie was a soloist and competition jury member for the
Lieksa Brass Festival in Finland. (2008) She performed William's work "Music for the End of Time. See her video of other faculty members.
In October Abbie and her trombone class from the Musikhochschule Trossingen particpated in an event honoring trombonist Gusztáv Höna at the Liszt Academy in Budapest, Hungary.
In November Abbie peformed on the trombone recital of Lisa Albrecht at the Julliard School in New York City. She performed "Pond," co-composed by Abbie and William.
Abbie was a jury member for 2nd International N. A. Rimsky-Korsakov Competition in Saint-Petersburg, Russia from 23 November - 6 December, 2008.
She also performed the Lars Eric Larson Trombone Concerto.
<![if !supportEmptyParas]><![endif]>