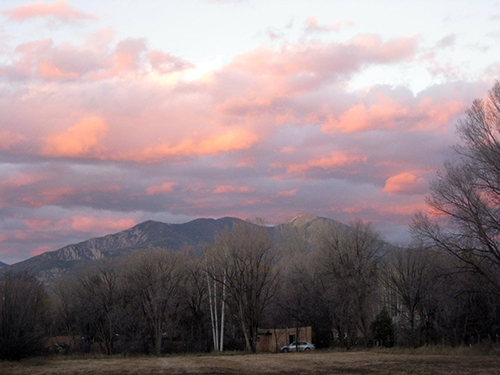 Land of Journeys Ending

(for baritone/counter tenor, baritone, flute (with piccolo and alto flute,)
trombone, piano, and three percussion
4. Historical and Ethnological Background
6. Text in Spanish and English

Land of Journeys' Ending was completed in 1974 and premiered in 1976 at the University of Pennsylvania by the new music ensemble Relâche conducted by Joseph Showalter.

2. The Score
Click here to download the PDF score. It should be printed on large paper, 17 x 22 inches.
(43.5 x 55.5 cm.)

3. The Video Score
This recording was made in 1976. The recording quality was poor and further deteriorated over the years. We've restored it as best as we can. Some passages or sounds in the score are inaudible. Page 6 is a full page graphic score we had to chop up to put in the video. As such, some parts of page 6 might at first be a bit confusing to follow. We recommend reading the historical and ethnological background of the work and the Spanish/English text below before listening to the video score.

4. Historical and Enthnological Background
Out of the desert floor of Northern New Mexico rises a rugged, stark mountain range called the Sangre de Christos. The isolation of the sparsely populated mountains is dotted with small adobe villages containing descendants of the original Spanish settlers of New Mexico from 400 years ago. Some of the villages are so isolated that a few inhabitants still speak Spanish with elements of a dialect stemming from the 16th century.
After Mexico gained independence from Spain in 1821, the Church withdrew most of the priests from New Mexico. The men in these small, isolated communities eventually came together in the absence of a priest and dedicated themselves to the purpose of providing mutual aid and charity. They called themselves Los Hermanos de la Fraternidad Piadosa de Nuestro Padre Jesús Nazareno, or colloquially Los Hermanos de Luz (the Brothers of Light,) or simply Los Penitentes.
In addition to community service, they revived a long Christian tradition of passion plays in a series of rituals and processions over five days druing the Easter week. These rituals allude to the region's Franciscan heritage, including self-mortification and devout reenactments of the crucifixion accompanied by songs of praise called Alabados.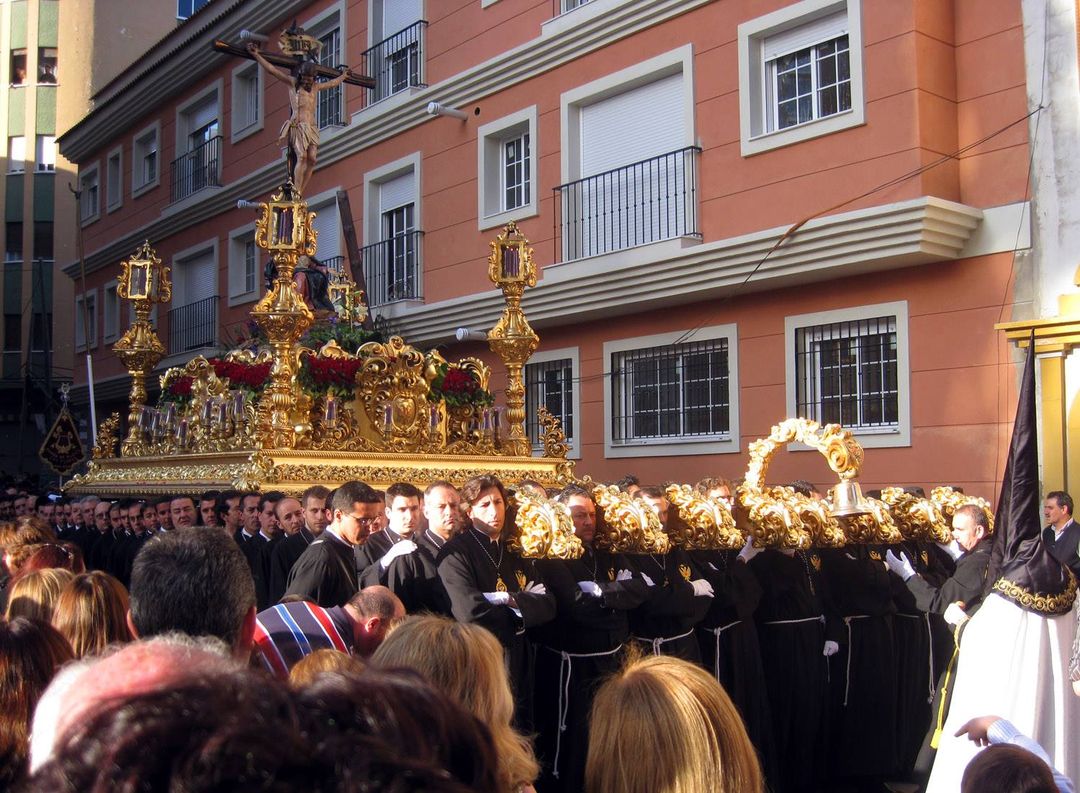 Penitent Easter week processions are a tradition that has existed for centuries in Spain. Catholic religious brotherhoods (hermandad) and fraternities perform penance processions on the streets of almost every Spanish city and town during the last week of Lent, the week immediately before Easter. The Spanish processions often demonstrate the oppulence and power of the Church, while the Penitentes' riturals in New Mexico find their origins in the Franscision modesty and poverty of a moutain farmer culture. At the right is our photo of one of the lavish Spanish processions in Malaga.

In New Mexico, the Penitentes meet in small, almost windowless adobe buildings called moradas for their meetings and rituals. On the right is my photo of a little known morada in a dusk light in Valdez, NM.
The Penitentes' architecture and livelihood stem from the stark, simple, pastoral lives of mountain farmers. The simple voice of the wind, the call of a mourning dove, or the color of the earth reflect their devotion. One need only hear their haunting alabados or the stark, terse wailing of their rustic wooden flutes and ratchets piercing the night air of their outdoor rituals to be convinced of this.
Later in the 19th century the Church returned to NM and attempted to suppress the Penitentes who responded by becoming something of a secret society. This is why the moradas that remain today are almost windowless. It also reflects their humble desire for privacy in their religious expression.
In January 1947, the Brotherhood and the Church reconciled and the Penitentes were officially recognized and sanctioned as a lay organization by the Archbishop in Santa Fe. By that time the membership had dropped radically due to demographic and social changes created by WWII. Today the Brotherhood remains small but continues as a charitable organization that still practices somewhat modified forms of their rituals. They are one of the most beautiful and fragile parts of New Mexico's Hispanic culture.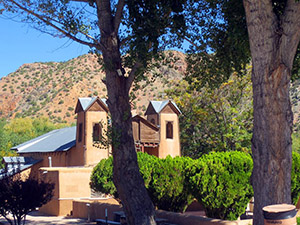 El Santuario de Chimayó north of Santa Fe, NM, is a site that helps one understand the Franscian culture out of which the Penitentes evovled. A small room at the side of the chapel called El Pocito (the little well) contains a round pit, the source of "holy dirt" (tierra bendita) that is believed to have healing powers. An adjacent Prayer Room displays many ex-votos, photographs, discarded crutches, and other testimonials of those purportedly healed. Devotees also leave photos of their children and spouses in the military with the hope that the Santuario will bring them home safely.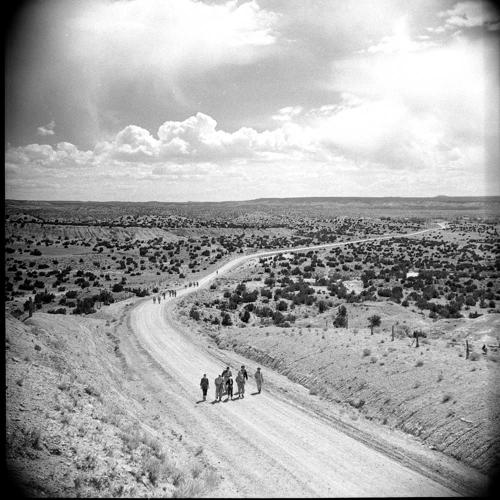 During the 19th century, a tradition began of pilgrimages on foot to the Sanctuario during Easter week. In 1946, Conrado Vigil fulfilled a vow to make a 120 mile pilgrimage to Chimayo from his home in Belin, NM if he survived the Bataan Death March, an ordeal in which 9000 Filipinos and 1000 Americans died during WWII. Other veterans joined Vigil's lead and each year the numbers grew. The spiritual experience of the trek became a way of healing the post-traumatic stress of the war. Eventually many besides veterans joined them. The tradition of pilgrimages to Chimayo was revived and continues to this day. At the right is a photo of a group of veterans making the pilgramage in 1946. The photo is in the archives of the Palace of the Governors in Santa Fe. Land of Journeys' Ending is a tribute to these veterans and to all victims of war.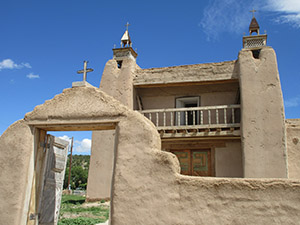 Another edifice associated with the Penitentes is the San Jose de Gracia Church in the plaza of Las Trampas, New Mexico, built between 1760 and 1776. The mission church is one of the most beautiful examples of the Hispanic architecture and religious expression in New Mexico and has a morada attached to the east side of the building. Due to its isolation in the mountains and the region's poverty, the church has changed little over the centuries.




The work of Patrociño Barela (1900-1964,) a self-taught santero whose bultos (devotional wood carvings) are now housed in many prominent museums including the Museum of Modern Art, provides insights into the spiritual world of the Penitentes.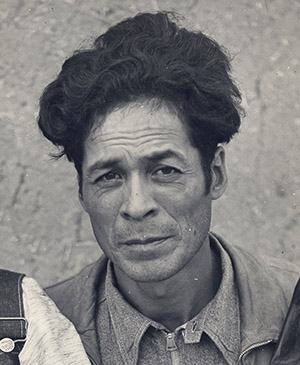 Patrociño's mother and sister died when he was young. He left home when he was 11 to work as a laborer and never attended school for more than a few weeks. He was thus unable to read or write. His work was discovered in the early 1930s by ethnographers from Roosevelt's Works Progress Administration. He was widely lauded and called "discovery of the year" by Time magazine. Fame and wealth, however, meant little to him so he did not exploit his work for profit. Thirty years later he died in a fire in his studio in Taos, NM, still poor and illiterate. Below are photos of his work that in our view capture the same humble and yet existential characteristics of religious expression embodied by the Penitentes.
Below are two pages from William's score of Land of Journeys' Ending composed in 1974 when he was still a young man. This work is based on Psalm XXII and in our minds distantly alludes to the Brothers of Light and their mystical devotion, though the only direct reference to the Penitentes is an alabado sung at the beginning by a baritone. As with many artists, mostly Southwest painters who have alluded to the Penitentes, this work is an expression of our hope that that the Penitentes' fragile culture will be honored and preserved.
Two historical images of Los Penitentes: William Penhallow Henderson's Holy Week in New Mexico/Penitent Procession, 1919; and an albumen silver print by Charles Lumis from 1888.

5. A Memory of Claus Adam
As final thought, we would like to remember Claus Adam (1917-1983,) best known as the cellist of the Juilliard String Quartet, who was one of the few people back in the 1970s to appreciate this composition. He had become aware of New Mexico's rich culture because he was one of the earliest members of the Santa Fe Chamber Music Festival. His Austrian father was an ethnologist living in Indonesia when Claus was born. When he was six they returned to Austria where he eventually studied at the Mozarteum in Salzburg. In 1929 he immigrated to the USA and became a naturalized citizen in 1935. For the last decade of his life, he devoted himself to composing. His connection to ethnology, New Mexico, and composition are probably factors that led to his appreciation of Land of Journeys' Ending. Sadly, he passed away not long afterwards, a musical personality missed to this day.


6. D
ual-language text of the alabado used and Psalm XXII
(The alabdo is taken from the John D. Robb field recordings housed in the archives of the Center for Southwest Research at the University of New Mexico.)
Movement I (begins with an Alabado)

Por el rostro de la sangre
que Jesus Christo Redema
Camina la virgin pura
En una fresca mañana .

De tan de mañana que era
alla hora que caminaba
las campanas de Belen
solas tocaban el alba.

Psalm XXII
1. Dios mío, Dios mío, ¿por qué me has dejado? ¿Por qué estás lejos de mi salud, y de las palabras de mi clamor?
2. Dios mío, clamo de día, y no oyes; Y de noche, y no hay para mí silencio.
6. Mas yo soy gusano, y no hombre; Oprobio de los hombres, y desecho del pueblo.
7. Todos los que me ven, escarnecen de mí; Estiran los labios, menean la cabeza, diciendo:
8. Remítese á Jehová, líbrelo; Sálvele, puesto que en él se complacía.
9. Empero tú eres el que me sacó del vientre, El que me haces esperar desde que estaba á los pechos de mi madre.
10. Sobre ti fuí echado desde la matriz: Desde el vientre de mi madre, tú eres mi Dios.




Movement III
11. No te alejes de mí, porque la angustia está cerca; Porque no hay quien ayude.
12. Hanme rodeado muchos toros; Fuertes toros de Basán me han cercado.
13. Abrieron sobre mí su boca, Como león rapante y rugiente.
14. Heme escurrido como aguas, Y todos mis huesos se descoyuntaron: Mi corazón fué como cera, Desliéndose en medio de mis entrañas.
15. Secóse como un tiesto mi vigor, Y mi lengua se pegó á mi paladar; Y me has puesto en el polvo de la muerte.
16. Porque perros me han rodeado, Hame cercado cuadrilla de malignos: Horadaron mis manos y mis pies.
17. Contar puedo todos mis huesos; Ellos miran, considéranme.
18. Partieron entre sí mis vestidos, Y sobre mi ropa echaron suertes.

Movement V
23. Los que teméis á Jehová, alabadle; Glorificadle, simiente toda de Jacob; Y temed de él, vosotros, simiente toda de Israel.
24. Porque no menospreció ni abominó la aflicción del pobre, Ni de él escondió su rostro; Sino que cuando clamó á él, oyóle.
25. De ti será mi alabanza en la grande congregación; Mis votos pagaré delante de los que le temen.
26. Comerán los pobres, y serán saciados: Alabarán á Jehová los que le buscan: Vivirá vuestro corazón para siempre.

27. Acordarse han, y volveránse á Jehová todos los términos de la tierra; Y se humillarán delante de ti todas las familias de las gentes.
31. Vendrán, y anunciarán al pueblo que naciere, Su justicia que él hizo.

Movement I (begins with an Alabado)

By the trail of the blood
Which Jesus Christ had shed
The pure virgin traveled
On a fresh morning.

It was such an early hour
When she journeyed forth
That the bells of Bethlehem
Were ringing in the dawn.

Psalm XXII
1. My God, my God, why hast thou forsaken me? why art thou so far from helping me, and from the words of my roaring?
2. O my God, I cry in the day time, but thou hearest not; and in the night season, and am not silent.
6. But I am a worm, and no man; a reproach of men, and despised of the people.
7. All they that see me laugh me to scorn: they shoot out the lip, they shake the head, saying,
8. He trusted on the Lord that he would deliver him: let him deliver him, seeing he delighted in him.
9. But thou art he that took me out of the womb: thou didst make me hope when I was upon my mother's breasts.
10. I was cast upon thee from the womb: thou art my God from my mother's belly.

Movement III
11. Be not far from me; for trouble is near; for there is none to help.
12. Many bulls have compassed me: strong bulls of Bashan have beset me round.
13. They gaped upon me with their mouths, as a ravening and a roaring lion.
14. I am poured out like water, and all my bones are out of joint: my heart is like wax; it is melted in the midst of my bowels.
15. My strength is dried up like a potsherd; and my tongue cleaveth to my jaws; and thou hast brought me into the dust of death.
16. For dogs have compassed me: the assembly of the wicked have inclosed me: they pierced my hands and my feet.
17. I may tell all my bones: they look and stare upon me.
18. They part my garments among them, and cast lots upon my vesture.

Movement V
23. Ye that fear the Lord, praise him; all ye the seed of Jacob, glorify him; and fear him, all ye the seed of Israel.
24. For he hath not despised nor abhorred the affliction of the afflicted; neither hath he hid his face from him; but when he cried unto him, he heard.
25. My praise shall be of thee in the great congregation: I will pay my vows before them that fear him.
26. The meek shall eat and be satisfied: they shall praise the Lord that seek him: your heart shall live for ever.
27. All the ends of the world shall remember and turn unto the Lord: and all the kindreds of the nations shall worship before thee.
31. They shall come, and shall declare his righteousness unto a people that shall be born, that he hath done this.