The Wired Goddess and Her Trombone
Abbie Conant's Project for the Trombone, Electronics and Computer
A Short Report of Abbie's Sabbatical Activities
A List of Works Written with Sound Files
I am not some stone commission
Like some statue in a park
I am flesh and blood and vision
I am howling in the dark.

--Joni Mitchell
The purpose of The Wired Goddess and Her Trombone project is to explore the theme of the goddess and further a repertoire for solo trombone and electronics that can be
performed by college-age trombonists. The spirit is one of practicality, similar to Hindemith's Gebrauchsmusik. Often works are simply too difficult to play and or realize and thus receive one or two performances and die. With this project I (Abbie) would like to help composers create repertoire pieces that stick around, even if technology marches on. I will make one or more CDs of a selection of these works, and work for their publication so that the music and materials will be made available to trombonists worldwide.
The thematic focus of these works centers loosely around the theme of the return of the Goddess, the balancing of the Feminine in us all. Possible points of departure could include Goddesses and their past and present aspects. I am still collecting works and invite all composers, men and women, to participate.
Works could also include a wide range of earthly "avatars" of the Goddess such as Rosa Parks, Maria Callas, Mother Theresa, Anne Frank, Etty Hillesum, Chief Seattle, anonymous bagladies, etc. Any and all ideas are welcome.
To date twenty-seven works have been written or are in progress, of which I have premiered nine. Sixteen of them are by women, and eleven by men. The compositions include or will include several by composers quite prominent in the field such as Pauline Oliveros, David Jaffe, Elizabeth Hoffman, Maggie Payne, and Chris Brown. [All the works are listed in an appendix at the end of the interview.] Where possible, I like to work with each composer. I am interested in true exchange and interaction during the compositional gestation period. The work of partnerships and collaboration is especially in the spirit of this project. Premieres will likely take place in either the U.S., Germany or Italy.
Southwest German State Radio (Sudwestfunk) broadcast a 14 minute report on my Wired Goddess Concert of November 27, 2000 at the Trossingen Musik Hochschule. Click here to see a transcription in German.
Click here to see the review in Music Works.
Click here to see the review in VivaVoce. (In German.)
I am interested in both established composers and those who are young and/or unknown. If this project speaks to you, then by all means, let's establish contact and discuss it further!
Abbie Conant
Professor of Trombone
Hochschule fuer Musik, Trossingen, Germany
Address: Alte Steige 4
D-78736 Epfendorf
Germany
Tel. (011) 49 7404 8531
Fax. (011) 49 7404 8429
email: click here
A Report of My Sabbatical Activities
We spent my sabbatical in the US working on "THE WIRED GODDESS AND HER TROMBONE." We began by filling in for Pauline Oliveros at Mills College in Oakland, where William and I were artists-in-residence for five months. We also worked at the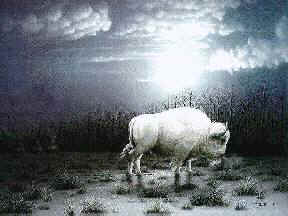 Center for New Music and Audio Technology (CNMAT) at the University of California, Berkeley, and at Cal Arts near Los Angeles. We then spent a month in Manhattan, which included working with composer Elizabeth Hoffman at New York University. All are very distinguished schools for new music involving computers and electronics. We worked with many composers at these institutions, and performed many concerts of new music, mostly for trombone and computer. These included eight world premieres. We then toured the Midwest, ending with performances and workshops in Chicago. (Click here for a review of one of my sabbatical concerts: "Old Stalwarts Usher In the New Millenium.)
Works Composed and Performed Thus Far
(including some sound files):

Sound files require RealPlayer. Free download here.
ROBERT BELCASTRO -- "What Is A Modern Goddess" for trombone and tape. A collage of sounds and interviews about he modern meaning of the goddess processed with the software SoundHack.
JORGE BOEHRINGER—"Hows to Use the Trombone as a Snorkel" for trombone, video and delay line. A multi-media work alluding to the Sirens of Greek mythology and the fog horns of the San Francisco Bay.
CHRIS BROWN—"Time Bomb: Four Poems by Mina Loy" for Trombone and Interactive Electronics. The four poems are from Mina Loys' late work, a collection entitled "Compensations of Poverty". The instrumentalist controls with her pitch and volume the granular playback of recordings she made speaking the four poems. An interaction develops between the acoustic sound and the electronic sound it engenders. The trombone "speaks" the poems.
ABBIE CONANT -- Rachel's Lament for trombone and video with surround sound. Abbie overdubbed four vocal parts and four trombone parts to create the score. The video is comprised of images from the bombings of Hiroshima Nagasaki.

See program notes and a video. (15:36 min.)
ABBIE CONANT and MATTHEW WRIGHT—"Garden of Earthly Delights" for trombone and interactive electronics on a text by Czeslaw Milosz. The program "Max MSP" is controlled by a WACOM board to trigger and transform a prerecorded recitation of the poem and samples of the trombone.

Listen to Garden of Earthy Delights. (6:56 min.)
CINDY COX -- "Hysteria" for trombone and two track tape. Hysteria is the Greek word for womb. The text by the composer's poet husband, John Campion, explores the meaning of the word in several languages and provides the basis for this highly dramatic and profound work which was composed with ProTools and Audioscuplt.

Listen to Hysteria. (8:38 min.)
NANCY KENNAN DOWLIN -- "Love Song Without Words" for trombone and guitar. A Work as gorgeously beautiful as it is simple.
ELIZABETH HOFFMANN -- "The Elderberry Goddess" for trombone, narrator and two track playback. An updated version of Hans Christian Anderson's fairytale composed with C-sound on a text by the composer's husband, Jim Labe. William Osborne has created a video to go with Elizabeth's music using still images created by digital artist Norbert Bach. (Norbert, where are you? Please contact us.)

See and listen to the video [without trombone.] (8:51 min.)
DAVID JAFFE -- "Impossible Animals" for trombone and quadraphonic tape. The virtuosic song of a winter wren is transformed to the sound of a human voice using the program Chant. The result mixes beautifully with the trombone.
ANNE LEBARON -- "Sauger" for trombone and quadraphonic tape. Written for Abbie Conant, who played an active part in the realization of the piece, "Sauger" joins an instrument that is blown with an appliance that sucks. Both the title and the music of "Sauger" play with the multi-dimensional, and often conflicting, attitudes toward domesticity, housework, and entrapment. Raw source materials used in Sauger are simply a vacuum cleaner and, occasionally, a food processor. Internal rhythms from the sucking sounds of the vacuum determine more external rhythmic phrases, which are contrasted with and extended by a drum track. The work was composed using Pro Tools and a Kurzweil 2000 synthesizer.
KRISTIN MILTNER-- "Untitled," a multi-media work for trombone, accordion, and cello, and three video monitors.
PAULINE OLIVEROS--"The Heart of Tones" for trombone and 2 oscillators. Oliveros continues her study of the smallest elements ("the quantums") of musical change.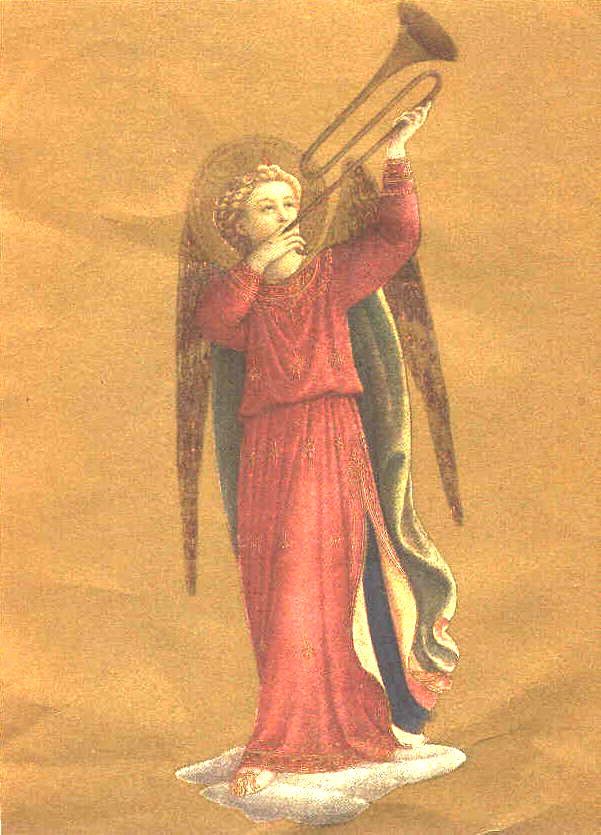 WILLIAM OSBORNE--"Music for the End of Time" for trombone and quadraphonic tape. A 52 minute work in six movements based on the the Book of Revelation.

Listen to Music for the End of Time:
I. A Door Was Opened In Heaven
II. The Sea of Glass
III. The III. Four Horsemen
IV. As It Were of a Trumpet Talking (7:56 min.)
V. The White Beast (14:55)
VI. A Woman Clothed With the Sun (8:01 min.)
MAGGI PAYNE—"Hum 2" for live trombone and 7-track tape. Each autumn the Japanese goddess Tatsuta-Hime wove a beautiful multicolored tapestry, then incarnated herself as wind and blew her own work to shreds. The seven-track tape is a prerecorded overdub of seven additional trombone parts played on a seven speaker Surround-Sound system. Maggi's program notes for Hum2 are here.

Listen to Hum 2. (7:07) (Stereo version.)
BEN PIEKUT-- "Situated Knowledges" for trombone, slide projections, and tape.
ALEX POTTS—"The Secret Waits…" for trombone and interactive electronics. An improvisatory work using the software "Super Collider" which incorporates the program's ability to spawn granular operations to transform the soloist's soft playing, whispering, and glissandi.
ANNA RUBIN -- "Landmine" for trombone and tape. A mix of synthesizer music and fragments of recorded verbal comments about landmines and war.
Listen to Landmine.

Part 1. (2:52 min.)

Part 4. (2:33 min.)

Part 6. (3:02 min.)
Works not yet premiered, still being written, or under consideration:
Nancy Beckman: "Pele"
Willow Williamson: (about a wind goddess)
Fred Frith
Matt Wright and Abbie Conant: (an Ecotrance piece about Point Reyes)
Julie Homi: "Word in Edgewise"
Carissa Mondavi: a goddess song
Linda Antas: "Avalotikeshvara"?
Abbie Conant: "Anne Frank's Prayer" for trombone and quadraphonic tape.
Anne Bourne: "Looking Onto the Eyes of the White Buffalo"
Joe Zitt: "Rose of Tikkun"
Brenda Hutchinson
Dirk Appelt
Gabriella Gabrielle: (theme on a Brazilian Goddess)