Comments On our Work By Professionals

Note: To view Abbie's video interviews of colleagues click here.

Comments About Our Work

<![if !supportEmptyParas]>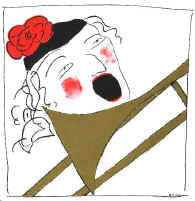 <![endif]>

"We had a stunning concert in the Gallery at Deep Listening Space: A world class trombone player and a world class piece of music.  Last night was a magical moment in musical life - a great performer and great music carefully prepared and lovingly composed and played.  It is a rare occasion when so many factors coalesce to create a special moment in musical life.  The music was beautiful, expressive, moving and grand.  It was symphonic in it's breadth and depth - wonderful uses of electronic sound and sampling - the trombone brought breath, presence and scope. If you are anywhere near one of their concerts it is a must attend! ... it was a remarkable highlight of our 13 years of presentations."

--Pauline Oliveros, internationally renowned composer    top

Thank you for bringing your musical message to share with us, and for delivering it with such artistry and sincerity. Your ability to express the ineffable through your composition and performance is rare, making the experience of hearing profound. Please let us know if your plans for the future include Texas. We would want to come hear your music again. And, Abbie, thank you for the positive and supportive effect you have had over the years.

--Andy Russell, trombonist

"It was every performer's nightmare:  the last note faded away into stillness, yet the hall was silent, and remained silent.  But then suddenly it became every performer's dream as the audience erupted into wild applause and delivered a standing ovation which continued bow after bow. With tears streaming down my face as I rose and joined the others, I was reminded why I had become a musician:  I wanted to affect people, as Abbie Conant had just affected me with her performance of William Osborne's performance-art piece "Miriam: Part II."

     --Monique Buzzarte, Free-lance trombonist, New York City    top 

"Before much time gets by, I want to tell you your presentation at Edison Theater last night was truly amazing!  I was so impressed and envious of you're freedom and ability to do so much so well!  It was pure pleasure to participate as audience for something so riveting and almost death-defying!  You could feel the electricity flow.  Even these words are very inadequate…"

--Julie Studebaker, first horn Gewandhaus Orchestra, Amsterdam      top

The performance you gave was absolutely profound. Your exquisite musicianship, dramatic commitment and your simultaneously elegant and powerful trombone playing illuminated the works performed to perfection. The works themselves were sublime; frightening, funny, terrifyingly beautiful, powerful and brimming over with humanity. This was a stunning, engaging and enlightening experience. Thank you!

--Alexander Lapins, Professor of Tuba and Euphonium at Northern Arizona University

Yesterday, I had the pleasure of attending a talk and concert by one of the world's most accomplished and polished trombone virtuosi, Abbie Conant. She and her husband (both New Mexico natives, I might add), composer William Osborne, collaborated on a two large multimedia performance art pieces, which were presented last night here in Redlands.
The first, Cybeline, features Conant portraying a cyborg trying to assume the role of a talk show host in order to prove that she is human, and interrogates the gender-coded aspects of technology and sexual violence. It is an effective contemplation of the effects of mass media on our humanity and the "programmability of the mind". The work is vivid and immediate; Conant's own animations are projected onto a screen as the images of the cyborg's conscious and unconscious thoughts.
The second work, Music for the End of Time, is a stunning piece for trombone, quadraphonic electronic sound, and video. This "dramatic tone poem" seamlessly unfolds, not in the least part due to Conant's impeccable technique and haunting sound, providing not only some of the most violent, ominous music I've heard, but also some of the most plaintively beautiful. The last major section of the work is a true gem-- flawless in both its construction and execution.

--Anthony Suter, Prof. of Compostion, Redlands University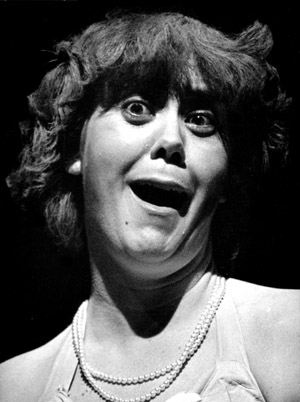 "Young performers, composers, all musicians, need to come in contact with performers who take learning and knowing the new music they perform as intimately as they may know the Mozartian and Beethovian standards of the various repertoire. Unfortunately, hearing performances of contemporary music that result from such learning and knowing is rare. Most new music is "learned" in a few rehearsals and delivered in only the ways that such contact can suggest, even by the most outstanding performers. Fortunately for us in Valdosta, GA, it was one of those rare occasions on April 10, 2002 when Abbie Conant and William Osborne brought their music to the campus of Valdosta State University. I am not sure I have ever heard a performance of works of new music where the performer so fully learned and knew and felt the work (s)he was performing. Abbie Conant's presentation of William Osborne's music was so involved, familiar, and inclusive, that it was hard to tell
that it was not simply improvised by her at that moment. She brilliantly and engagingly navigated the complexities of the singing, tromboning, and drama in the most meaningful ways. It was a real unusual treat and pure a joy to have her and William here."
--Tayloe Harding (Chairperson, Department of Music, Valdosta State University) top

It was wonderful to have you both here - the students really learned a lot from your visit, about what performing really is and can encompass, about musicianship, and much more. Your performance was something of the type that most of them had not seen before, opening up their minds to what possibilities there are. Abbie's masterclass was also very informative, and made a big difference in the students' approaches to the pieces that they played.
--Kathryn Adduci, Prof. of Trumpet, San Jose State University
Thanks so much for taking the time to visit our campus and work with our students. Your gender studies talk, master class, and concert were all so inspiring. This was such a rich experience for students and faculty, and your artistry, enthusiasm, and obvious love for performing and teaching made a significant impact on all of us.
--Rob Taylor, Music Dept. Chair, University of Puget Sound

It was great to be able to have Abbie visit Cal State, Northridge for a masterclass. My students greatly enjoyed her class whether they played for her or just observed. Her work with individual students was done in such a way that her suggestions were helpful and applicable to every player in the room. Hopefully, we'll have her back again soon. Brava!

--Andrew Molloy, Prof. of Trombone, Cal State Northridge

What a pleasure it was to have you here! I think we all felt moved and inspired by your story and your incredible playing. It is great that you are stretching our ears and sense of musical possibility with your multimedia concerts. Combine that with your great teaching in the master class, and we get a sense of the depth and breadth of your musicality. Thank you for sharing your and William's work with us. I hope we'll be able to have you back!
--Bruce Dresser, Adjunct Lecturer in Trumpet, Southern Oregon University

You were great and the kids loved you. Abbie Conant is truly a wonderful trombone player and teacher. She has been at USC on two separate occasions and did an excellent job with my students both times. It is always good to bring in outside teachers from time to time and I can think of none better than Abbie. She has a soft spoken style which imparts a calming atmosphere regarding the master class which allows the students to play their best. I highly endorse Abbie. She is a terrific person and trombone player."

--Terry Cravens, Prof. of Trombone, USC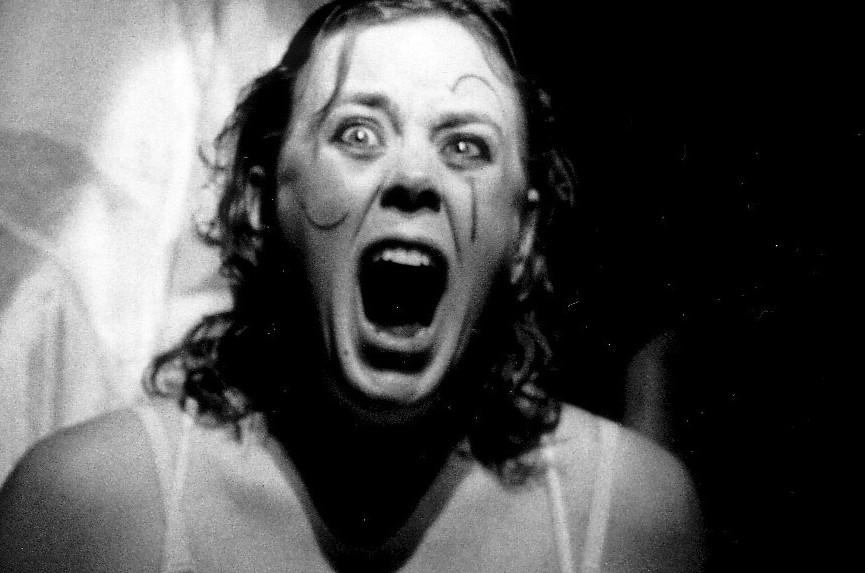 After drinking in the incredible peak season cherry blossoms on the quad at University of Washington, we repaired into Brechemin Auditorium for a great master class by Abbie. The next night we were treated to an powerful video and sound performance, with new cartoon-like figures from Abbie and a video by Bill, that invited us to make meaning through multiple metaphors that appeared and disappeared on the screen. Abbie's sound was as beautiful as ever, and we found ourselves immersed in the fantastic surround sound the entire evening. These two road warriors captivated us just as we knew they would.

So neat to see you two. Such a special treat!

--Stuart Dempster, Emeritus Prof of Trombone, University of Washington

It was a pleasure having you headline Trombone Day and fun playing Euphonie!

Trombone Day 2009 at California State University, Fullerton was a big success in no small part due to the participation of Abbie Conant and her husband, William Osborne. In addition to performing a work of epic proportion, Music for the End of Time (with Mr. Osborne handling the several technical requirements of the piece) to close out the day, my studio benefited greatly from a truly masterful Master Class presented by Ms. Conant. The CSUF trombone ensemble enjoyed very much performing Mr. Osborne's new work for trombone choir and tuba, Euphonie. A great time was had by all!

--Bob Sanders, Prof. of Trombone, Cal State Fullerton

I was thrilled with the classes and recital. The students are still talking about it! Just getting the chance to visit with you helps me keep the motivation to keep at it.

--Andrew Glendening, Department Chair, Redlands University
My students loved the recital, the master class and the talk at lunch. One of the highlights to some of them was when you spoke informally with them in my studio following the luncheon. This was very gracious and appreciated by all. Your work with composition, performance

and pedagogy is all excellent, and we were fortunate to have someone like yourself serve as our guest artist this year. Your work and that of Bill's will be remembered for a long time. We also appreciate the website availability of some of your solo and collaborative efforts. 'Rachel's Lament' had a profound effect on my students. You are reaching the souls of many people with work such as yours and William's. Please extend our gratitude also to Bill, his dedication toward the art form, the preciseness of performance, and comments at the performance were all appreciated.

--Dr. Robert Lindahl, Prof. of Trombone, Central Michigan University

"I left Abbie Conant's performance of William Osborne's 'Street Scene for theLast Mad Soprano' and 'Music for the End of Time' in a state of total awe.  They've raised the standards for all of us and greatly expanded the concept of what a solo trombonist can do.  She's so damn good!!!"

--Tom Plsek, Chairperson of the Brass Department, Berklee School of Music, Boston     top   

"The class had a wonderful discussion about your visit...some of the students seemed as moved by the experience as I was, and it really marked a turning point in the course.  I think the students have been more engaged in the overall topic since then...a very great help indeed!"

            --Deborah Rohr, Prof. of Music and Women's Studies, Skidmore College    top  

It is a true testament to the quality of your work that it is still being discussed by undergraduates years after you have been here. Comments that you made to my students have been carried with them through master classes and performances. One of my students told me that one of your recordings is his favorite of that particular work, and that he likes
what you bring to it. Your comments on posture and articulation have been particularly helpful. Thanks again for the clinics and performances!

--Ross Walter, Prof. of Trombone, Virginia Commonwealth University

The 'Mad Soprano' is an experience not to be missed; no matter what one's relation to the subject matter, the emotional impact is heart-wrenching and poignant.   'Music For The End of Time' is an absolutely unbelievable virtuosic display; I saw people spell-bound, I saw people shaken and I saw people weep.  The masterclasses I attended were unlike any I had ever seen before; Abbie unfailingly addressed the human behind the instrument which, along with superb technical guidance, engineered clear and exciting progress with each student.  Witnessing such a staggering level of playing, singing, theatrical performance and communication by a woman, as well as a decidely female version of teaching, is an astounding and life-changing experience for players of my vintage who may well have never seen such a thing.  We never doubted..."

     --Susan Dustan, Free lance trombonist, Toronto     top

<![if !supportEmptyParas]> <![endif]>

"What a lovely concert you gave at Kenyon!  The students AND faculty talked about it for days afterward, and it was indeed a pleasure to hear *in person* what we thought we would hear!  I have never heard a trombonist that I enjoyed as much--and it's nice to have a CD to remind me of your playing!"

     --Prof. Ben Locke, Music Department Chairperson, Kenyon College     top

<![if !supportEmptyParas]> <![endif]>

"Abbie's performance in Toronto was enthusiastically received by the audience.  [A standing Ovation.]  "Street Scene for the Last Mad Soprano" was both electrifying and riveting. Combined with "Music for the End of Time," in which Abbie takes trombone performance into newer heights, the evening recital was both a stunning and moving experience. Abbie's husband, William Osborne, has written and produced some very impressive material as a vehicle for Abbie's talents.  The next day at a clinic presented at the University of Toronto, Abbie displayed a genuine, positive interest in the students in which she worked.  Her jovial, relaxed manner of presentation was well received by all present.  She seems to have a natural ability to express her ideas in a way that everyone could easily understand. All in all, a very worthwhile 2 days."

            --Frank Harmantas, 2nd Trombone Toronto Symphony and              top

            Prof. of Trombone Univ. of Toronto    

<![if !supportEmptyParas]> <![endif]>

"...it is inspiring to see a player of Abbie Conant's caliber who has broken the gender barrier. Her power as a teacher is just as amazing and astounding as her playing. Her workshop and performance of "Music for the End of Time" left me speechless and musically stimulated.  Abbie as a person, trombone player, and performer moved me greatly and left me boundlessly inspired.  She is not just an inspirational woman, she is inspirational and a woman which is much more meaningful."

     --Erika Eichner, Student at the Oberlin Conservatory        top

<![if !supportEmptyParas]> <![endif]>

"What a remarkable duo you have become, and continued excellence is the norm for both of you.  You were again the highlights of the Eastern Trombone Workshop.  I hope the International Trombone Workshop sees your value and understands the incredible contribution you are making towards the ART of trombone playing."

     --Master Sargent Scott Shelsta, US Army Band, Chair        top

             of the Eastern Trombone Workshop

<![if !supportEmptyParas]> <![endif]>

"Abbie came to us after a horrendous night of theft and loss to give a spontaneous, inspiring, and intriguing session on the political and gender issues of our profession as well as performing beautifully for us and instructing the members of our brass class at Yale on the art of 'tromboning'.  Her 'reading' of the class was masterful and her empathy with the people who performed, most impressive."

            --John Swallow, Prof. of Trombone, Yale University       top

<![if !supportEmptyParas]> <![endif]>

"...what you are both doing with music was truly a turning point for me musically and as a trombonist, and in many ways as a person.   The two of you are truly breaking ground with the way you reach an audience.  Sitting there listening to 'Music for the End of Time' was a journey not a concert.  I was terrified, enraputured, awed, and sometimes just visualising beautiful landscapes.  Your performances trigger a response which is very unlike any other concert I have attended."

     --Dr. Cynthia Yuschyshyn, top

<![if !supportEmptyParas]> <![endif]>

"It was a great pleasure to have you as our guests. Your performance was very moving -- intense, dramatic; it was obvious that the audience was very engaged in what was happening.  Thanks for giving us another side of your marvelous talents."

     --Marilyn Shrude, Prof. of Composition, Bowling Green State University   top

            and Director of the MidAmerican Music Center for Contemporary Music   

<![if !supportEmptyParas]> <![endif]>

"I found "Music for the End of Time" and its performance engrossing and enjoyable, and I was repeatedly impressed with Abbie's extraordinary emotional focus and physical and mental stamina.  I enjoyed the traditional elements in the composition, not just because they were there, but because they were employed with imagination, and I liked the way the trombone playing sustained the work's broad expanse."

     --David Fetter, Assistant Dean Peabody Conservatory of Music and former  

             trombonist of the Baltimore Symphony      top

<![if !supportEmptyParas]>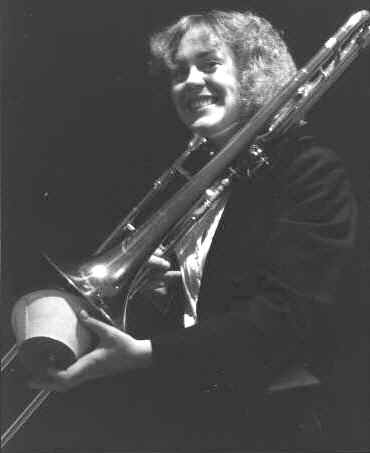 <![endif]>

"The 'sister' pieces, as William Osborne describes them, 'Street Scene  for the Last Mad Soprano' and 'Music for the End of Time' are complex, rich in allusion, profound in signification... The sounds surround, ranging from delicate glass-tinkling bells to earth-shaking thunder, from the familiar snatches of those patriarchally laden putting-women-in-their- 'place' oh-so-lovely-and-haunting arias to unanticipated swirls and   swoops and crashes and, yes, silences... The dynamic range is mountainous...  This is music which leads one through heights and depths. It is a sonic mirror into which we can peer and hear reflected our darkest aspects, together with glimmers of hope."

     --Norman Lowrey, Prof. of Composition, Drew University     top

<![if !supportEmptyParas]> <![endif]>

"The Toronto portion of Abbie Conant's North American tour was highly successful. An outstanding presentation of "Street Scene for the Last Mad Soprano" and "Music for the End of Time" before a large audience at the Concert Hall of The Royal Conservatory was followed by a well deserved standing ovation. Abbie's gentle coaching at the Masterclass on Tuesday at the University of Toronto will surely be of benefit not only to the four students who played, but also to all of us who listened. Abbie Conant is a truly wonderful player and I am pleased to have been able to have been involved with her visit.

            --Dave Buckley, Concert Agent, Hamilton, Ontario     top

"Abbie Conant is one of the finest trombonists worldwide. Her beautifully vibrant and warm sound matched with her technical mastery of the instrument are beyond compare. Conant's performance of "Street Scene For the Last Mad Soprano" by William Osborne mesmerized the audience with its strong emotional content. Among the college music majors, Conant's recital created a stir of discussion for several days about the meaning and importance of avant-garde music. While some modern audiences feel the need to be entertained and to tap
their toes to a tuneful melody, Abbie Conant's recital touched a much deeper tone: she forced the listeners to look deep into the soul of mankind and examine some of the turmoil that exists. The reaction from audience members was intense on both sides of the scale - some felt illuminated by the depth of the music and others seemed almost horrified by the intense feelings that the music brought out. Either reaction exemplifies that Conant has produced not just a recital of music but a true work of art which will forever remain with
her audience."
--Jeanie Lee (Prof. of Trombone, Morehead State University) top

"Great ability to reach people with a variety of interests and background in the arts, the main emphasis being the importance of being authentic and real in our artistic engagements. Just hearing the story of Conant's experiences with sexual discrimination in orchestras opens students' minds to things they rarely or never think about. Then to see the imaginative artistic responses of Conant and Osborne to those and other experiences is very inspiring: it
brings art right to our doorstep. The medium is part of the message, in that the creative things Conant does with trombone, voice, text, and lighting makes us realize that any number of media can be manipulated into the means of communicating artistic stories and feelings--that perhaps we can communicate artistically too, not just by performing works of others but by engaging authentically, abstractly, and expressively with the world. Definitely worth seeing!"
--Claire Detels (Prof. of Musicology, University of Arkansas) top

"Moving and effective music, beautifully performed. A total artistic experience!"
-- Daniel Taddie, Ph.D. (Director, Schwob School of Music, Columbus State University, Columbus, Georgia.) top

"At last, a RELEVANT trombone recital. If this is what music of the 21st Century sounds like, bring it on. Many of our students were forced to expand their definition of art and deal with issues like whether music is just for entertainment or can it contain the negatives of human existence as well. That Abbie Conant has channeled some of these negatives into such a positive outpouring should be an inspiration to us all."
--Gerald Sloan (Prof. of Trombone, University of Arkansas) top

"Abbie Conant's Wired Goddess performance is a potent blend of an extraordinary
instrumentalist with a wildly varied program of interesting and unusual works by women composers. The evening generated lots of discussion among my students, but the one common thread among all their comments was "WOW! What a great trombonist!"
Street Scene for the Last Mad Soprano is a marvelous blending of music and theater. I must admit that I was skeptical when I first saw the promotional materials for the piece (a trombonist who can sing AND act??!)--but the truth is that Abbie Conant 's talents blend these diverse accomplishments into a compelling performance. William Osborne's musical score and lighting design coupled with her performance made for an evening that had music and theater students and faculty equally excited by the piece--no small feat!
--Linda Dusman (Chairperson, Music Department, Univ. of Maryland) top

I'm just so awed by your talent and inspired by your grace and kindness.
--Tom Gibson (Brass Dept. Coordinator, Gerorgia State University) top

Everyone in attendance at your performance of "Street Scene for the Last Mad Soprano" and "Music for the End of Time" were surely deeply touched and moved by your work. I have heard many effusive compliments from members of the community, faculty, and many students regarding the tremendous amount of care and detail apparent in the craftsmanship of your work, and in Abbie's dramatic, powerful performance. This truly was a tour de force, something special and altogether different.

The performance of your Wired Goddess compositions was truly a spectacular evening of brilliant music -- entirely new conceptions in the field of trombone perfomrance. Your virtuosic perfomrances did great justice to very difficult music, helped the listener approach entirely unfamiliar styles of music, and hear the beauty in every composition.

-- Christopher Nigrelli, (Prof. of trombone, Lenoir-Rhyne College) top

It was a wonderful two day happening for the trombone studio and all of the others who
participated in these events . Our ears and minds were opened to strange new sounds and possibilities through the superb artistry of a world-class trombonist and a "cutting-edge" composer. Maybe even of greater significance is the opportunity we all had to get "up close and personal" with two artists of such integrity, humanity and grace - and the value of
that in the development of our students (and me too) cannot be measured in dollars and cents.

--Art Jennings (Prof. of Trombone, Univ. of Florida) top

It was wonderful having you in Gainesville--I enjoyed your presentation and concert very much, and I also was very happy to meet you and William. The presenation for our composition students was a real eye-opener for them. They now have a much more complete picture of the compositional possibilities of the trombone! And the music
you played there and at your concert was so beautiful, varied and engaging!


--Mark Engebretson (Prof. of Composition, Univ. of Florida.) top

It is a true testament to the quality of your work that it is still being discussed by undergraduates years after you have been here. Comments that you made to my students have been carried with them through master classes and performances. One of my students told me that one of your recordings is his favorite of that particular work, and that he likes what you bring to it. Your comments on posture and articulation have been particularly helpful.
--Ross Walter (Prof. of Trombone, Virginia Commonwealth University)
<![if !supportEmptyParas]>

<![if !supportEmptyParas]> <![endif]>