Ohio Impromptu
Table of Contents
1. General Description
2. PDF Score
3. A video of the score with the music

1. General Description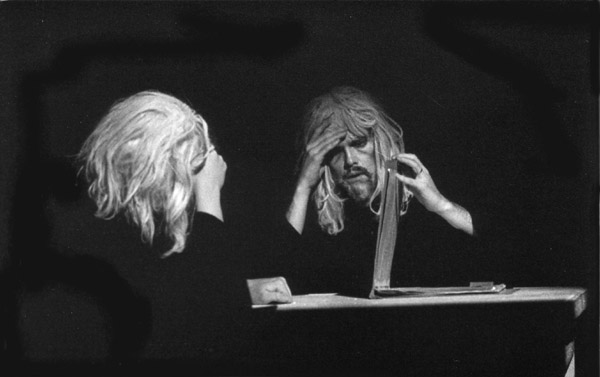 For tenor, actor, and piano: text of Samuel Beckett. (20 minutes) Preimere: Munich - Gasteig Kultur Zentrum, March 1, 1986.
Two old men sit at a table. One reads, the other listens. The listener occasionally knocks on the table when he wants a passage repeated. The story the reader reads is about two old men who are ghostly mirror images of each other, one a reader and one a listener -- exactly the image we see on stage. The story speaks of the ever-flowing, eddying water of a river that converges and re-converges after being separated by an island.
The story seems reminiscent of the days when Beckett used to read passages from Finnegan's Wake for his mentor, James Joyce, especially the running flow of the river in the book: "riverrun, past Eve and Adam's, from swerve of shore to bend of bay...."
Allan van Breejan, tenor
Pierre Oser, piano
Recorded by the Hessische Runkfunk December, 1986

2. PDF Score
The score of Ohio Impromptu is downloadable in two sizes. We recommend the larger tabloid size for learning the work, or for reading it online. The legal paper size score can be used later for simpler handling. The score can also be reduced to letter or A4 sizes, but the print is rather small.
Ohio Impromptu, tabloid size paper (11X17 inches)
In EU print on A3 paper.
Ohio Impromptu, legal size paper (8.5X14 inches)
In EU print on A3 paper and trim to 21.59 X 35.56 cm)
(In case of possible errors in the Finale score, comparisons can be made with the original ink copy which is here.)

3. YouTube (audio with a still image)
Click here to download the MP4 file of the video score.