Alice Through the Looking-Glass
A "Family Opera" for chamber orchestra and singers.
Includes a song cycle as well.
Text and music by William Osborne, based on the book of Lewis Carroll
Table of Contents
1. General Description
2. Score for the Song Cycle
3. Audio Files
4. Slide Show of the German Production
5. Slide Show of the Israeli Production
6. Program Notes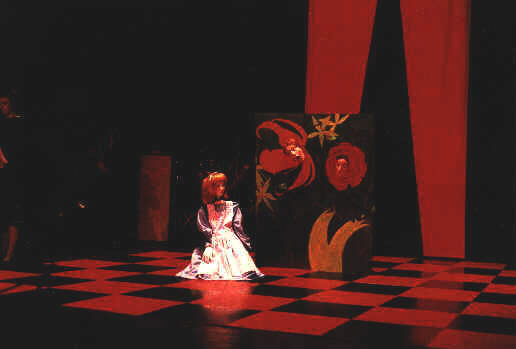 1. General Description
A children's opera for chamber orchestra and singers based on Lewis Carroll's Alice Through the Looking-Glass. (55 minutes.) Premiere: Tel Aviv - Israel Chamber Orchestra and the Train Theater, March 19, 1985.
.

2. The PDF Score of the Alice Song Cycle
To download the PDF score for the Alice Song Cycle click here. (1 MB)
The score is on legal size paper and can be trimmed as needed.

3. Audio Files
Child of the Pure Unclouded Brow
(Opening Song in German, piano/vocal version)
Yaron Windmueller - Bariton
Leonore Hall - Piano
A Boat Beneath A Sunny Sky
(Closing song in Hebrew, orchestral version)
Yaron Windmueller - Bariton
Michal Shamir - Soprano
Israel Chamber Orchestra
The Jabberwocky
(reconcieved by the performer as a "Woman of the Night" performing in a wild west honky-tonk -- hence the accompaniment on an old, broken upright piano. This wasn't the composer's idea. )
Judy Roberts, coloratura

4. Slide Show of the German Production

5. Slide Show of the Israeli Production
The Train Theater of Israel.

6. Program Notes
Friendship was important to the Rev. Charles Lutwidge Dodgson, the 19th century Oxford mathematician who used the alias Lewis Carroll. His dearest friends were usually from seven to ten years old, and Alice Pleasance Liddell, the daughter of his Oxford dean, was the most special. "I have had scores of child-friends since your time," he wrote to her after her marriage, "but they have been a quite different thing." His books immortalize his ephemeral friendship with Alice, and above all, show his profound sympathy and compassion for the world of children. In my opera, I have transformed Lewis Carroll into one of the characters, and it is this side of his work and personality that I have tried to represent.
The opera begins with Lewis Carroll singing the poem that opens his book. The verses lovingly commemorate the day he first extemporized the story for Alice as they drifted down the Thames in a rowboat--July 4, 1862.. We go to Alice's house, where she discovers that she can step through a mirror into the "Looking-Glass World"--a land laid out like a huge checker board inhabited with living chess pieces and amusing characters from English fairy-tales. Like a pawn in a chess game, Alice journeys across the board meeting these fantastic beings, and eventually becomes a Queen. A banquet is held in her honor, but it turns nightmarish, and she awakens to discover that her "Looking-Glass World" was all just a dream. Lewis reappears, and he and Alice sing the poem that closes the book, again recalling the "golden afternoon" on the Thames when he first told her the story.
Since Lewis Carroll's beloved child-friends inevitably grew up, his dearest relationships always vanished before his eyes. This Leitmotif of ephemeral friendship lends a hint of anguish to Alice Through the Looking-Glass and is clearly summarized in two stanzas from its closing poem: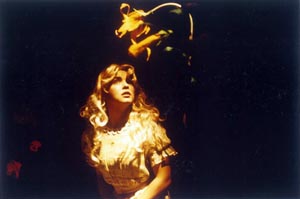 "...Long has paled that sunny sky:
Echoes fade and memories die:
Autumn frosts have slain July.
"Still she haunts me, phantomwise,
Alice moving under skies
Never seen by waking eyes...."
Lewis Carroll's keen sense of the ephemerality of life fills his books with scenes of transformation that children love, and hint at the world of a man whose companions disappeared as they transformed into adults. In this ever-flowing universe the White Queen turns into a sheep, the notations in the White King's memorandum book transform into the drama of the Jabberwocky, scented rushes teasingly vanish into thin air, and unicorns float in and out of sight. This ephemerality is most poignant when the White Knight sadly watches his dear Alice run down a hill with tearless and eager eyes to become a Queen. As the work closes, Lewis Carroll simply asks, "Life, what is it but a dream?"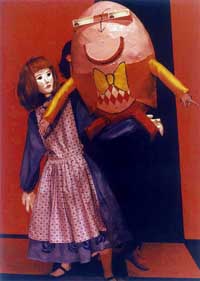 Much has been made of the possible metaphorical meanings of Lewis Carroll's books, but there is little evidence to support any solid conclusions. He possessed an imagination that took delight in the playfulness of metaphors as ends in themselves, rather than in limiting them to political or philosophical meanings. It is exactly this resonant openness to interpretation that allows his books to reach both children and adults. Certainly one can find wry commentary on the logical absurdities of language, the violent imagery of fairy-tales, and the foibles of his Oxford colleagues, but the final significance of the books are their portrait of his ephemeral friendship with Alice.
Seen as unwitting self-portraits, his books are amusingly insightful studies of an eccentric Oxford Professor: he was a poetic intellectual delighted with gadgetry, an absent minded bachelor, a wry and insightful observer of human folly, a jokester mathematician laughing away the darkness, a selfless friend, a cultured loner with a devoted love for children. This self-portraiture is developed in the episodic structure of the book, and lends itself to theatrical development. As Alice moves across the checkerboard land, each new square brings a new character, or set of characters, into her life. These characters can easily appear through various theatrical devices, and Lewis Carroll gave them a lot of dialog. They seem to be archetypal components of his own personality, as if he told the story by embodying each one like a quick-change artist.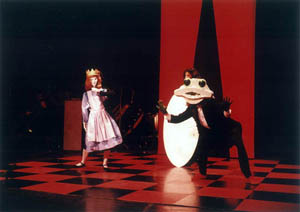 I have, in fact, written a version of this opera that allows one male singer to play Lewis Carroll enacting all of the Looking-Glass World's characters for Alice. He uses various costumes and puppets like a quick-change artist, and when done well, it can be very amusing theater. I have also delineated the characters by centering the accompaniment of each one around a specific musical instrument according to the table below. I thought this might be an interesting way to help more observant children learn about the instruments of the orchestra:
The White King Trumpet
The White Queen B-flat Clarinet
The Tiger Lily English Horn
The Rose E-flat Clarinet
Tweedledee Bass Clarinet
Tweedledum Bassoon
The Sheep Horn
Humpty-Dumpty Contrabass
The Unicorn English Horn
The White Knight Harp
I wrote most of this opera when I was 23 years old, and memories of my own childhood were still vivid. But I was not able to complete the work because I had not yet learned how to put together an opera. Ten years later, after writing several other music theater works, I completed "Alice" at the request of the Israel Chamber Orchestra. It was premiered in Tel Aviv in Hebrew in 1985 with Michal Shamir (Berlin Opera) singing Alice, and Yaron Windmuller (Munich State Opera) singing all the other characters. It was seen by about 5000 children.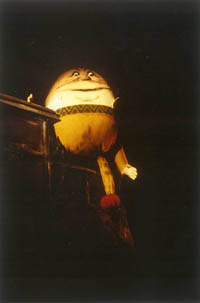 Presenting Alice Through the Looking-Glass as music theater, and even as a one-man show, is not unfounded historically. As a child, Charles Dodgson dabbled in puppetry and sleight of hand, and throughout his life he enjoyed doing magic tricks, especially for children. With eight younger brothers and sisters, these pastimes were probably inevitable. The Reverend was also an enthusiastic patron of opera and theater at a time when this was frowned upon by church officials. The famous actress Ellen Terry was one of his lifelong friends. With his love of puppetry and opera, his appreciation of improvised gadgetry, and his enthusiasm for personifying objects--which could include musical instruments--Lewis Carroll might have appreciated the productions you see here.
It is exactly Carroll's independence of mind that gives his books their charm. If there really were a moral in Lewis Carroll's books, it would certainly not be simplistic or pious, and it would seem more relevant today than ever. The stories portray a universe that is beyond rational definition, a world where language itself is an absurdity, and where nothing seems to be especially stable or permanent--a world quite normal to children, but rather problematic for adults. In the words of
Martin Gardner, the books suggest that "life, viewed rationally and without illusion, appears to be a nonsense tale told by an idiot mathematician." Perhaps that is why modern physicists have so often turned to Lewis Carroll to find names for the logic defying phenomena of both the subatomic and the inter-galatic "natural" world.
All of this would have been lost to us if Alice had not insisted that Charles Dodgson write his story down. He did, and even illustrated it with his own crude but distinctive drawings, thinking to never hear of it again. But the novelist Henry Kingsly, while visiting the deanery, chanced to pick the volume up (which is now in the British Museum), read it, and urged Mrs. Liddell to persuade the author to publish it. By the time of Dodgson's death, "Alice" (taking the two volumes as a single artistic triumph) had become the most popular children's book in England, and by his centenary in 1932, perhaps the most popular and famous in the world. Dodgson received a considerable income from the books, and with characteristic generosity, asked that his salary at Oxford be lowered accordingly.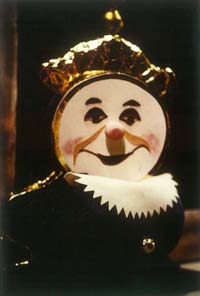 By this means we have received these haunting metaphors for the seemingly irrational ephemerality of a universe in constant transformation, a "chess world moved by invisible fingers that we cannot understand." Lewis Carroll shows us that life is a dream, and how important this concept is for both children and adults. We see how the child's perspective of "let's pretend" meets the profounds of the human mind existing in an unknowable universe. In this sense, his works are closer to those of Samuel Beckett than to _The Wizard of Oz_ or _Wind in the Willows_. This could be a world of existential horror, but Lewis Carroll meets it with a wry and sardonic humor tempered by a deep sense of kindness and generosity. It is Lewis Carroll's love for Alice and his compassion for childhood that gives the books their most beautiful character and meaning. In this unfathomable existence, Lewis Carroll, in his own person, reveals the "eternal child" in all of us. Like the White Knight, these children "hunt for butterflies that sleep among the wheat..."